HOME
On Saturday we play East Ringwood at East Ringwood Reserve …
The equation is that we must win all games to make the finals …
We expect a few back from injury after the bye , so we should be able to tick off the first win this week ..
THE JUGGANAUGHT HAS CONTINUED !!!
The Under 19's have now won 5 games in a row .. This week they have a bye , so no doubt you will see a few of them step up into the Seconds in what is a very winnable game .
Two weeks ago against Rowville the game was nip and tuck all day .. It was great to see the passion that these young guys have and their will to win by kicking the last 2 goals of the game to beat a top side.
Ian Kent is doing a great job coaching and it is obvious that the players respond to what he has to say

SENIORS 2.10 pm
Reserves 12.05 pm
Under 19's - Bye
It's on again. A day not to be missed.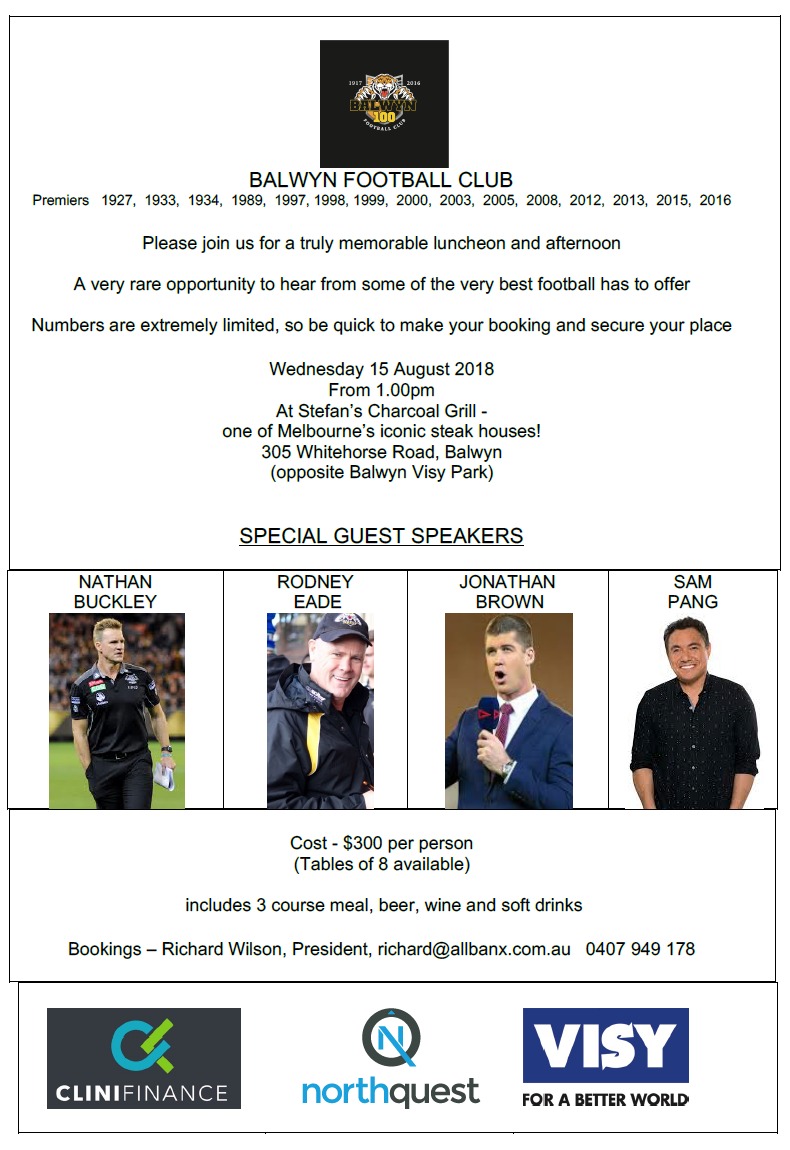 FACEBOOK: Balwyn Tigers Football Club
Don't just barrack for your club - Support Us! Whether you be a Sponsor, member, volunteer, parent, partner, family ... it takes many and varied efforts to keep this great club going and to be able to enjoy the rewards of success ... how are you going to be involved this season?
Sponsorship - Link your company with the professional and successful Balwyn Tigers brand. Let us design a package to suit your company (and your budget). Contact President Richard Wilson - 0407 949 178
Player Sponsorship - do you have a favourite player? Someone that you love to watch play, or would just like to support? Packages are available for $650 or $1,100 (additional benefits). This is your opportunity to take a Tiger under your wing and get significant branding and exposure for your business, or personally. Contact Football Manager, Jo Tregear, 0412 172 183 to secure your player.
Volunteers - we're always happy to hear from anyone who wants to get involved, or who has some special skill that you think might be able to assist the club.
---