HOME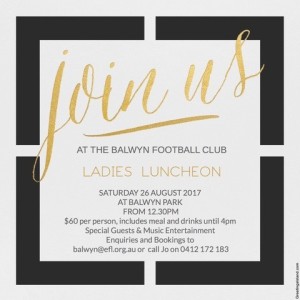 Bookings are still open for the Ladies Lunch for our last home game and what will be the last ever function in the Social Rooms, before Whelan the Wrecker comes in makes splinters of the old Bowls club.
From the Coaches Box
This week we played one of our oldest rivals, Noble Park, and were trying to atone for a stat that has been around for too long – winning at home against Noble Park.
Unfortunately, we were unable to achieve this, and Noble Park got this one, after we managed to get the win at their ground earlier in the year. It was a seesawing affair for 3 qtrs, with both teams unable to kick to far ahead. We entered the last change 3 points down with a slight breeze heading the other way. The 4th term started with great intent, until unfortunately we lost one of our most loved players, 'Krita' Pendlebury early in the quarter.
With a man down, and 20 odd mins to go, we unfortunately couldn't sustain the intent of the previous hour and a half of footy, and Noble were able to kick their way ahead. We were well served by Joffy Simpkin who tried hard all day, as did our skipper Rennie Gilchrist, young emerging defender Ed McCutchan and again Daniel Hughes worked very hard across the half forward line.
We have no doubt battled some adversity this season, and have had different injuries at different times to key players, but the one thing I know about this group is that they are resilient. We have worked very hard to be within striking distant, with two games to go, and I know this group will give their all.
SENIORS
| | | | | |
| --- | --- | --- | --- | --- |
| Balwyn | 3.4-22 | 7.6-48 | 11.10-76 | 13.13-91 |
| Noble Park | 4.4-28 | 8.6-54 | 12.7-79 | 20.8-128 |
BALWYN
Goal Kickers:
Y. Jaffer-Williams 2, G. Chivers 2, J. Kennedy, R. Gilchrist, J. Gobbels, M. O''Regan, R. Watts, S. Tregear, E. McCutchan, J. Simpkin, C. Sanfilippo
Best Players:
T. Simpkin, R. Gilchrist, J. Kennedy, G. Chivers, J. Wright, D. Hughes
RESERVES
Goal Kickers:
L. O''Connell 3, M. North, J. Baren, J. Chirgwin, B. Cotchett
Best Players:
D. Baglava, J. Gottliebsen, T. Roach, J. Chirgwin, L. O''Connell, L. Santilli
UNDER 19s
Goal Kickers:
B. Cotchett, D. Griffiths
Best Players:
W. Stevenson-Vissers, E. Keith, N. Clear, T. Horne, T. Ho, D. Parr
Next Game 19th August
Round 17
Versus East Ringwood
at East Ringwood Reserve.
Mt Dandenong Road East Ringwood
Seniors 2.10 pm
Reserves 12.05 pm
U19s this week 10.00 am
If you are not coming to the Lunch this week, then make sure you turn up to watch two sides go at it hard from the first bounce. This is a contest that never disappoints and will be as good a game as you see all year.
---
FOLLOW US:
FACEBOOK: Balwyn Tigers Football Club
Don't just barrack for your club - Support Us! Whether you be a Sponsor, member, volunteer, parent, partner, family ... it takes many and varied efforts to keep this great club going and to be able to enjoy the rewards of success ... how are you going to be involved this season?
Sponsorship - Link your company with the professional and successful Balwyn Tigers brand. Let us design a package to suit your company (and your budget). Contact President Richard Wilson - 0407 949 178
Player Sponsorship - do you have a favourite player? Someone that you love to watch play, or would just like to support? Packages are available for $650 or $1,100 (additional benefits). This is your opportunity to take a Tiger under your wing and get significant branding and exposure for your business, or personally. Contact Football Manager, Jo Tregear, 0412 172 183 to secure your player.
Volunteers - we're always happy to hear from anyone who wants to get involved, or who has some special skill that you think might be able to assist the club.
---