Home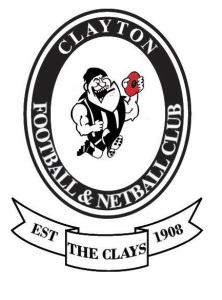 The Clayton Football & Netball Club (CFNC) is one of the oldest clubs in the Southern Football and Netball League, established way back in 1908. We are a family oriented club with a great culture, rich history and our teams are ready to take on any challenge.
We strive to promote the sport of Australian Rules Football and Woman's Netball for the benefit of all participants no matter what their age or skill level. As a sporting club we endeavour to excel both on and off the field, with success not only measured in wins, but also in the positive impact we can have on the lives of our players, members and the greater community that we serve.
Regular training sessions throughout the season for our Men's and Women's teams are held Tuesday and Thursday nights at 6pm, at our home ground, Jack Meade Reserve, Clayton. Netball training sessions are held Wednesday nights at 7pm at Marriott Waters Reserve, Boland Drive, Lyndhurst.

History is made as our ladies team debut in 2018
In other news, after the success of our Auskick program last season we will be running Auskick again at Meade Reserve in 2018! Our AusKick program kicks off from 9:30am-10:30am at Meade Reserve on Sunday 22nd April. To register your interest please message CFNC via our facebook page today or email our Auskick Coordinator Satbir Singh at satbirsingh@live.com.au.
New players for any of our teams, of any experience or level are always welcome.
While you are visiting Our site, please take some time to check out all of the pages via the tabs above. There are photos, our Honour roll and much more.

See you on the park in Black, White and Pink this season! Go Clays!
Home Ground (Map)
Meade Reserve (Clayton Oval)
356 Haughton Rd
Clayton, VIC 3168

- Like us on Facebook - Follow us on Instagram - Search our Social media: #GoClays
We would like to thank all of our Club Sponsors for their continued support!