Sexual Health - Having the talk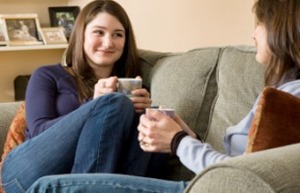 Although the topic of 'sex' can be difficult to raise, it is an important topic for all parents to talk about in their own way.
Think back to how your parents spoke to you about the topic: if sex was not talked about, maybe you got the message that sex is embarrassing and should not be discussed.
Research is reassuring for parents on this subject and suggests that there is no golden moment or correct age to begin talking about sex.
You know your children best and you will be the best judge your child's readiness to talk about sex and sexual health. Having 'The Talk' too early will not traumatise kids but you may realise that they do not understand and it may be better to wait.
There is no evidence at all that sex education of any kind leads to earlier or increased sexual activity. In fact, there is a body of research which tells us that such education means that young people are more likely to delay sexual intercourse and are better prepared for it when the time comes[1]. When young people have information about sex and sexual health, they are more likely to make good decisions which keep them safe and happy.
Here are some tips for parents as they talk about sex and sexual health with their children:
Use casual opportunities to talk such as in the car or when walking the dog together

Show that you are really willing to listen – try not to interrupt

Assure them that you will respect their privacy and confidence
If talking seems too hard then remember the most important thing is to be a great role model by demonstrating healthy and respectful relationships in your own life.
More information can be found at: www.education.vic.gov.au/Documents/school/teachers/teachingresources/social/physed/tshparents.pdf
---
[1]
Baldo M, Aggleton P & Slutkin G (1993).
Sex Education Does Not Lead to Earlier or Increased Sexual Activity in Youth,
WHO Global Program on AIDS.