I AM A GIRL, I CAN DO ANYTHING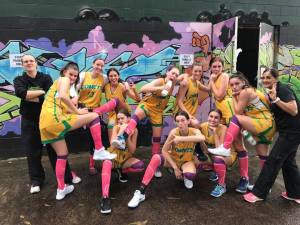 Whether your dream is to play for the Opals at the Olympics or to play with your friends for fun, you have to start somewhere.
Chosing to play Basketball can be a life changer. For young girls it has the potential to steer them down a path of better mental and physical health. It can instil them with confidence and teach them about leadership in a team environment.
Basketball can be a lifeling passion. Don't just see the 10 year old starting starting out, see the uni student in ther 20's catching up with friends, see the youn mum keeping fit, see them develop as coaches or officials within a community that supports not only them but their family.
Start playing Basketball now. Because a girl should be two things - who and what she wants.
If you're a female and interested in playing, coaching, refereeing, bench or stats please contact CSBA info@sydneybasketball.com.au
(BNSW: I AM A GIRL, I CAN DO ANYTHING)