2016 Regatta Flyer & Latest News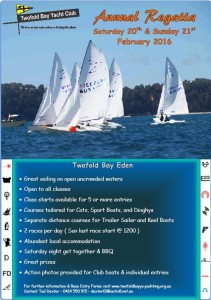 Press Release
42nd Annual Regatta Twofold Bay Yacht Club- Eden
TwoFold Bay Yacht Club is holding its Annual Regatta on 20-21 Feb 2016 at Eden .
This two day Regatta attracts keen sailers for racing on Eden's brilliant TwoFold Bay. Boats include skiffs, catamarans ,trailer sailers and keel boats from the local area and as widely as Canberra, Sydney and Melbourne .
Also on Saturday this year we will be running an event for any new sailers. These races will include participants who have been involved in the learning to sail program. This is held on water on Tuesday afternoons at Quarantine Bay .These sailers range in age from 4yrs to 65yrs.
This will also be an opportunity to show off our 2 new X3 sail training boats (2-3 person ). These vessels were provided by a Community Support Grant From Bendigo Bank.
Australia is ranked No 2 in the overall world sailing ratings and No1 in for sailers with a disability.
The interest in this life skill has seen younger sailers quickly moving from learning to sail to higher levels. Jemma and Reif Oliver have scored middle ranked finishes in the Open Bic World Titles 2015 and competed in 3 State Titles over the last 12 months. They first sailed Open Bic Dinghies at last years 2015 Regatta at a sail and try event, similar to this years events for new sailers.
Contact Ted Dexter 0414550915 , dexter01@activ8.net.au
For Jemma and Reif Oliver -James Oliver 0418373255