Season Statistics
PPG


RPG


APG
5.8
FG%

Player Profile
Rachel Jarry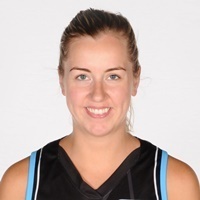 DOB: 6/12/1991
Height: 185cm
Junior Club: Altona (VIC)
WNBL Clubs: AIS 2008/09; Melbourne (formerly Bulleen) Boomers 2009 – Current.
WNBL Championships: (1) Bulleen Boomers 2011.
Bio: A bolter in the Jayco Opals squad for the 2012 London Olympic Games, Jarry proved her worth on the biggest stage, helping the team win the bronze medal.
Another AIS product to make it all the way to Opals selection, Jarry made a significant impact in her one season stay in Canberra, before joining the Bulleen Boomers under Tom Maher. This resulted in the club's first WNBL title in 2011 and saw Jarry get picked up with the 18th pick of the 2011 WNBA Draft.
This whirlwind rise was capped off with Jarry forcing her way into the Opals team for the Olympic Games, with London not expected to be her only appearance in the world's biggest sporting festival. Jarry proved her worth at the Olympic Games, providing rebounding and active defensive pressure on the biggest stage in basketball.
A strong second half of the WNBL season on her return from London caught the attention of her WNBA team, with Minnesota signing the talented forward for the 2013 season.
Career Highlights: Olympic Games: 2012 (Bronze), WNBL All-Star Five: 2012, Drafted 18th overall in 2011 WNBA Draft by the Atlanta Dream (traded to the Minnesota Lynx).
Season Statistics

2PT
3PT
FT
Rebounds
M
MIN
2PM-A
1st Half H.S
3PM-A
3PT
%
FTM-A
FT %
TOT
AST
PTS
Season
20
06/11/2010
- - -
0.0
64 - 39
48
- - Sydney
5.8
Career
140
23/01/2016
- - -
0.0
587 - 260
410
- - -
6.3
Previous Seasons

Competition
Season
M
MIN
2PM-A
1st Half H.S
3PM-A
3PT
%
FTM-A
FT %
PF
Total Pts
TOT
AST
PTS
2015/16
2015
25
23/01/2016
81 - 213
38.0
113 - 74
89
- - UC Capitals
78.8
5.8
2013/14
2013
3
25/10/2013
4 - 18
22.2
10 - 7
7
- - Dandenong
70.0
8.0
2012/13
24
20/10/2012
114 - 288
39.6
132 - 31
94
- - Canberra
71.2
7.2
2011/12
Summer
24
07/12/2011
127 - 299
42.5
96 - 58
64
- - Bendigo
66.7
7.5
2010/11
Summer
20
06/11/2010
- - -
0.0
64 - 39
48
- - Sydney
75.0
5.8
2009/10
Summer
24
11/12/2009
- - -
0.0
85 - 34
56
- - Bendigo
65.9
5.9
2008/09
Summer
20
10/01/2009
- - -
0.0
87 - 17
52
- - Bendigo
59.8
5.5