Season Statistics
PPG


RPG


APG
8.2
FG%

Player Profile
Elizabeth Cambage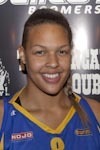 PERSONAL:
DOB: 18/8/1991, Height 203cm
POSITION: Centre
FIRST PLAYED IN WNBL: 2006/07
WNBL CLUBS: Dandenong 2007/08, AIS 2007/08 - 2009, Bulleen 2009/10 Current
INTERNATIONAL GAMES: 28 (17 Junior, 11 Senior). 2008 FIBA Oceania U19 Championship, 2009 FIBA U19 World Championship; 2009 FIBA Oceania Championship, 2010 World Championships
PERSONAL INFORMATION:
Liz began playing basketball at the age 10 and was introduced to the game by her mother Julia. Liz lives in Mount Eliza and has a little pug called Bella. Liz also has passion for fashion and hopes to develop her fashion interests in the future that may lead to having her own fashion line
WNBL CAREER NOTES:
Liz continued her domination of the WNBL in season 2010/11 leading the Boomers to the WNBL Championship and winning the WNBL MVP Award. She played in every game for the Boomers and led the league in scoring, field goal percentage and blocks per game; Named Player of the Month for November and December, Liz was also a member of the WNBL All-Star Five… Liz had a breakout season in 2009/10 to be named in the All-Star Five. She also won the awards for Leading Rebounder (9.6 per game) and Fest Field Goal Shooting Percentage (59.1 percent). Liz set a new career high tally of 36 points in a single game on February 6, 2010. Liz was the third most prolific scorer in the league, averaging 20.7 points per game and was the third best shot blocker with 1.7 blocks per game in the regular season. In the 2009/10 finals series Liz averaged 14 points and 11.5 rebounds. In the 2008/09 season she won the statistical award for Best Field Goal Shooting Percentage after converting 87-of-139 field attempts at 62.6 per cent...Despite playing only 16 games throughout the season due to injury Liz tallied 234 points and 111 rebounds averaging 14.6 points and 6.9 rebounds in her third WNBL season.
GENERAL BASKETBALL NOTES:: 2011 WNBA All-Star; Selected pick 2 in 2011 WNBA Draft by the Tulsa Shock; 2010 Member of Australian Opals 2010 FIBA World Championships; 2010 Played for the Launceston Tornadoes in the SEABL; In 2009 Liz made her Opals debut in China. She went on to top-score in Game One of the FIBA Oceania Championship against New Zealand, helping Australia qualify for the 2010 FIBA World Championship. In 2009 she represented the Australian Gems at the FIBA U19 World Championship finishing fifth, and was named in the tournament All-Star Five. Liz graduated from the AIS in 2009 and elected to sign with WNBL club Bulleen. Liz won the U16 (2005 and 2006), U18 (2007 and 2008) and U20 (2009) National Championships with Victoria Metro. She accepted an AIS Scholarship in 2007.
COACH'S COMMENT: Its great for the Boomers to retain Liz for this season, she's in high demand and could play anywhere. Last years WNBL superstar is still on 20YO so look out.
Season Statistics

2PT
3PT
FT
Rebounds
M
MIN
2PM-A
1st Half H.S
3PM-A
3PT
%
FTM-A
FT %
TOT
AST
PTS
Season
24
05/12/2010
- - -
0.0
181 - 6
132
- - Bendigo
8.2
Career
102
06/02/2010
- - -
0.0
622 - 26
428
- - -
8.2
Previous Seasons

Competition
Season
M
MIN
2PM-A
1st Half H.S
3PM-A
3PT
%
FTM-A
FT %
PF
Total Pts
TOT
AST
PTS
2007/08
Summer
10
06/10/2007
- - -
0.0
23 - -
13
- - Bendigo
56.5
2.9
2011/12
Summer
24
05/02/2012
199 - 327
60.9
137 - 9
99
- - Logan
72.3
10.7
2010/11
Summer
24
05/12/2010
- - -
0.0
181 - 6
132
- - Bendigo
72.9
8.2
2009/10
Summer
24
06/02/2010
- - -
0.0
166 - 7
123
- - Dandenong
74.1
9.8
2008/09
Summer
16
06/02/2009
- - -
0.0
107 - 4
58
- - Dandenong
54.2
6.9
2007/08
Summer
4
19/12/2007
- - -
0.0
8 - -
3
- - Dandenong
37.5
3.0