Home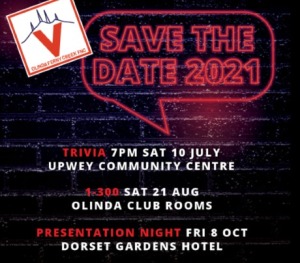 COVID and DISASTER UPDATES
AFL Outer East has given the green light for the resumption of football and netball matches this weekend ( Saturday 19 June).
OFC is away to Doveton.
Under State Government regulations no spectators will be permitted to attend community sport matches.
So attendees will be limited to players and officials.
When footballers (Reserves) and netballers finish their matches they will be expected to leave the precinct.
The Senior footy match will be carried live on either the Doveton website or Facebook page.
There may be no gate at Doveton, people may be expected to pay virtually.
There may be no canteen or bar at Doveton.
The length of quarters will also be reduced.
In other major news-
# next week's home fixture against Wandin has been transferred to Woori.
# Premier Division footy and netball ladders will become Top Six.
# because Olinda clubrooms are a disaster centre they cannot be used by OFC for the time being.
#the search is underway for an alternate netball training venue
#footballers will continue to use Olinda Reserve, we are hoping Ausnet will assist with power for the light towers.
Our U/19s and Womens teams aren't due to play their next matches until the following weeked ( Saturday 26 June)
Players will be advised about training..
Meantime you can get your footy and netty fix by reading Bloodlines ( see PDF below "Match Four") or by going to History/Timeline on this website and checking the PDFs.
The latest newsletter includes an exciting junior update and a Michael Scott profile in our "Champions Series".
---------------------------------------
OFC WOMEN

POWER UP
Congrats to everyone who has worked so hard to field our first women's team with only a couple of months notice.

There was a sea of Red at Belgrave on Saturday for the team's debut.
Thank you to all those people who spent the day at Narre Warren and then drove to Belgrave for this special night game.
Details of all the weekend Round 1 football and netball action will be included in this week's OFC newsletter, which will appear on this site in PDF form mid week. ( PDFs are at the bottom of this page).
----------------------------------
Vale Big Col Harris.
It's with a great deal of sadness we confirm the passing of former President and junior Premiership player Colin Harris.
Our thoughts are with Big Col's brothers David and Steve ( known to generations of OFC people as Tessa and The Brute).
More details in this week's Round 1 Bloodlines newsletter= see PDF at bottom of page.
--------------------------------------
Meet Our First Womens Footy Coach
Former Geelong Amateurs player Simon Gilson is OFC's inaugural womens coach.
Simon's commitment to community sport is already well known in the junior club where he's been coaching girls teams.
The father of two daughters says he's excited at the prospect of joining the senior club and helping to support the growth of womens footy in The Hills.
A huge wlecome to Simon, wife Kylie and the kids Ruby and Maeve.
Please see below for more details about training times.
-------------------------------------------
IT'S ON AGAIN !!!!
Toyota Mega Raffle- your chance to win a car with all proceeds going to OFC.
We came 23rd last year in the race to see which Aussie sports club could sell the most tickets- let's see if we can improve on that !!
Get your tickets now at (copy and paste into browser)-
http://toyotagoodforfooty.raffletix.com.au/olindafernycreekfnc
---------------------------------------------
STU HORNER HAWTHORN UPDATE- did you notice our son of a gun captained the Hawk VFL team in a recent pre season game ?
Check out his interview on twitter- copy and paste this link-
twitter.com/ofcfnc?lang=en
HELP OFC and Get Paid ?
If you are over 55- but pre pension age- and on Job Keeper you are probably eligible to continue receiving payments by simply volunteering to help us !!!
You won't be required to actively seek other employment. Call Carey to find out more-
0417 398 834
We Were A Part Of History
Thanks to all those people who turned out for the first training session at the new Olinda Green facility on February 18.
The Senior men's team wasn't the first to use the sensational new facility- that honour went to the junior girls - U-15 and U-17. What a wonderful evening for the club.
VCAT hearings into the planned netball court redevelopment at Olinda Reserve have finished and a ruling on the construction of the two new courts is expected any time now.
You Can Bank On Them
The Bendigo Bank ( Dandenong Ranges Community Bank Branch-Upwey) has come through for us again.
They have purchased two much needed all-weather marquees for us to use on match days.
Year in and year out the bank steps up to the plate to help OFCFNC (and dozens of other community groups).
Why not do what so many of us have done in recent years- change your mortgage/loans over to the Upwey Branch of the bank and earn money for OFCFNC ( and our wonderful community) along the way.
Yet again we thank Bendigo Bank for their vote of confidence in our Club.
DONT FORGET TO CHECK OUT OUR LATEST BLOODLINES NEWSLETTER- CLICK PDF BELOW
WELCOME ABOARD ALPHA AIR AND KENNEY FAMILY
It's a big red and white welcome to the Kenney family who have moved into Mt Dandenong.
Matt Kenney is the founder of Alpha Air and we are pleased to announce he's quickly reached out to the local community with OFCFNC sponsorship.
Alpha Air are heating and air conditioning experts working closely with builders, architects, body corporates , agents and others to offer budget conscious "comfort solutions".
Call Matt on 9580 3983 or check them out at
alpha-air.com.au
New Signings for 2021
OFCFNC's Sports Management Group is pleased to confirm that former Collingwood defender Matt Scharenberg will be in the red and white in 2021.
SMG Chair Grant Faull says it's a very important signing for OFCFNC adding that Matt is not only a highly credentialled player but also a quality young man who'll be a perfect fit for our family focused club.
President Michael Hill extended a warm welcome to Matt and his partner Sophie and is confident they will enjoy their time with our great club.
Matt's recruitment underlines OFCFNC's commitment to having a serious impact on the AFL Outer East "Premier Division".
Pre Xmas SMG signed a number of new players including Thomas Falzon and Alex MacKinnon from North Ringwood.
Thomas is the grandson of OFCFNC Triple Premiership player and life Member Paul Jones
2021 DRAW
Click on Game Day in the drop down menu above to check the 2021 draw.
Highlights include-
OFCFNC featuring in a stand alone game against reigning premier Narrre Warren to open the 2021 AFL Outer East season on April 17.
The following week we host Upwey Tecoma in an Anzac Day blockbuster. We also unfurl our A Grade netball flag on that day.
Because Berwick has gone to the EFL there will be two byes. When we also factor in Inter League games (and the transfer of Round 4 against Narre Warren to the season opener on April 17) there are four Saturdays in the first 11 rounds when we don't play.
OFCFNC LOTTO is

HERE !
Our weekly Thursday draw has begun !
Each week we give away $400 - you can watch the draw live on our Facebook page at 6pm. (latest winner Lisa Rankin !)
Only a few tickets are still available- get on board now , heaps of fun and a weekly chance to pick up $400!!
To check YOUR number or to sign up- click on the PDFs below for details.
FOR A NEWS UPDATE PLEASE CLICK ON THE BLOODLINES PDFs BELOW. WE WILL ADD THESE TO THE WEBSITE AS THEY BECOME AVAILABLE
Website Update-
We have used our "Isolation Time" to update our website and continue to work on two areas-
1 Timeline
2 Premierships.
To check our work click on Club History and then follow the drop down boxes.
In particular we have traced our Timeline back to 1902 ( the One Tree Hill Football Club).
There are PDFs at the bottom of most pages which contain further information and, in some cases, original newspaper articles.
We still have to complete some work on a couple of football premierships and many of the netball flags.
If you have any pics or information related to any of the above topics we would appreciate an opportunity to add it to this week site.
Please contact Rick on socky258@hotmail.com.
Bell Olinda have a great community initiative underway with free trailer hire to club members.
Speak to Elliot Bell about borrowing the trailer- and PLEASE speak to Elliot if you- or someone you know- is selling a house or just needs an appraisal- 0427 099 880.
And don't forget the Dandenong Ranges Community Bank ( Bendigo Bank at Upwey) are continuing to provide us with financial incentives when an OFCFNC member does business there.
We recently earned $500 thanks to an anonymous member !
WEBSITE LINKS
Web Counter