Home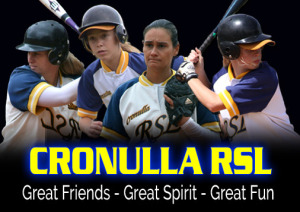 Welcome to Cronulla RSL Softball
Cronulla RSL Softball Club is a family friendly club focused on teaching players at all levels to always do their best.
Based in the heart of the Sutherland Shire, our club has enjoyed a proud history since Softball's local inception in 1974.
Today our members play socially and competitively in Softball & Teeball at Captain Cook Field while we continue to develop & provide programs to suit their needs. In doing so, they pride themselves in having fun, applying skills, achieving results, all while playing in a friendly, supportive environment.
We have a wonderful support network of Volunteers and Committee members who willing give up their time and always put in 100% to make your playing experience the best in the Shire,
We are a safe, friendly, bully-free Club who promotes integrity and sportsmanship. Our proven track record and kind, caring staff explain precisely why Cronulla RSL continues to be successful in assisting numerous Players and Officials achieve wonderful results at local, NSW, Australian & International levels.
So, come along and join us as we head into a new, exciting season. Games commence on Saturday 10 October when the first pitch will be thrown once more.