Full Page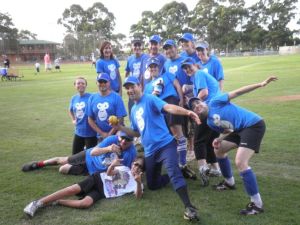 The Monkeys (Sydney) are a bunch of just that, trying to play softball as much as we can!
Here's a little bit of info below. However, please visit our OFFICAL MONKEYS SOFTBALL WEBSITE
The team formed in Sydney in 2010, by Clare and Scott O'Brien after convincing a unsuspecting lot that playing Mixed Slowpitch Softball would be fun.
We joined the new league started by Sutherland Shire Softball Association and started playing Saturday afternoons.
The Monkeys took a significant step in June 2013, and are now officially recognised as their own club under the Sutherland Shire Softball Association!
We have competed and continue to compete in numerous leagues and tournaments including:
Sutherland Shire Slowpitch Softball: Summer 2010 – current
Sutherland Shire Mixed Fastpitch Softball: Summer League 2012 – current
Sportsworld Indoor Sport, Miranda: Indoor Winter League 2011 – current
NSW Corporate Games 2010 – current
Tainn Hunter Classic, ACT 2010 & 2011
Slowpitch invitational, ACT 2011- currrent
Australian Corporate Games 2012
QLD Corporate Games 2013
Aussie Spirit Tournaments in NSW & ACT 2014