Division One Premiers 2018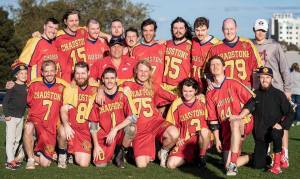 Congratulations to Division One Premiers 2018
CHADSTONE has returned to the top of the Lacrosse Victoria Division 1 competition, turning the tables on Williamstown with an impressive 6-1 final term, which included three goals from Scott Filliponi, to record a 12-7 victory in last weekend's grand final.
After finishing the home-and-away season in second position, last year's runners up were determined to make 2018 their year.
With the club last winning the flag in 2010, the Chadstone boys came to play, knowing the more-fancied opposition would be hard to beat.
And it took one of their best games to do it.
"They finally understand that only they can beat themselves, it has been proven in the two best games I have seen them play all year ... as a team, and ironically for two prestigious trophies. One against MCC for the Bill Gray trophy and, two, the grand final trophy," coach Joey Castle said.
"Truly a team effort, a well deserved victory."