ASOP Programs
Nabanga Sports - Vanuatu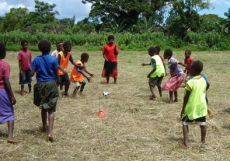 The purpose of Nabanga Sports is to assist 'trained young men and women to run regular, organised physical activities for children and youth in communities'.

The program aims to assist:

youth leadership
social cohesion
health promotion.

Structure
Nabanga Sports targets rural communities in the Tafea and Penama provinces. Both provinces are made up of three key islands, or island groups, each of which is populated by dispersed communities.
Partners
The Nabanga Sports steering committee is made up of representatives from the:

Vanuatu Association of Sport and National Olympic Committee
Vanuatu Ministry of Youth Development, Sport and Training
Vanuatu Ministry of Internal Affairs.
Participation
Activities are designed for young people — football (soccer), volleyball and athletics — and children (utilising the Pikinini Plei Plei program). A key feature of the Nabanga Sports program is that it is managed by trained youth leaders in the community.
There are also regular festivals for girls and boys run by youth leaders in their own communities, in which there is an emphasis on quality sport — that is, sport which is run according to a structured plan and agreed rules, and provides an opportunity for everyone to participate to the best of their ability.
Implementation
Nabanga Sports is managed by the Vanuatu Ministry of Youth Development, Sport and Training and a team of local trainers engaged to build the capacity of young people and assist with program implementation in the villages. The Australian Sports Commission provides ongoing strategic and operational support to the group.