ASOP Programs
Youth Outreach Partnership Program - Solomon Islands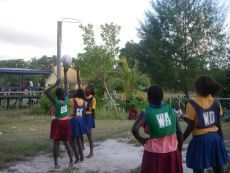 "Sport can start youth off on a track where they gain skills, become more self reliant and responsible, and have a greater role in their community. That then strengthens the community in general, starts to build the self-esteem of the young people and makes them more confident to take on other things they want to do." Eric Houma, YOPP Deputy Program Manager.
Save the Children Australia, in partnership with the Australian Sports Outreach Program (ASOP), is using sport as a vehicle to deliver lasting improvements to the lives of young people, women and communities in Solomon Islands.
Sports like football, netball and volleyball are used to provide community members with new opportunities and new skills. It builds on Save the Children's existing Youth Outreach Partnerships Program (YOPP), and has begun in selected communities in Western Province of Solomon Islands.
The YOPP Sports Program targets three development goals:
Healthy lifestyles

Improving physical fitness, reducing high blood pressure, reducing obesity, reducing stress and improving general lifestyle

Livelihoods

Fundraising during sporting competitions, employment, addressing social issues and improvement of lifestyle

Youth participation

Building relationships between young people, adult leaders and communities, targeting skills such as self discipline, self esteem, organising, planning, leadership and encouraging youth to be motivated, confident and express enjoyment.
Structure
The YOPP Sports Program is run at community level in four rural communities, in Solomon Islands' Western Province. Activities are run at community level, and bi-monthly tournaments between the four communities are also held. Football (soccer) is the main sport during the initial stages of the program, although additional sports such as netball, volleyball, swimming and traditional games are played.

Partners
YOPP Sports Program is implemented by Save the Children Australia, in partnership with the Australian Sports Outreach Program. Other partners include the Western Provincial Government, local elders and chiefs, church representatives and national sports organisations, such as the Solomon Islands Football Federation (SIFF).

Participation
Activities target youth in the four villages, however youth from neighbouring villages are also invited to attend any training/development opportunities. The activities actively target marginalised youth (such as users of alcohol and marijuana or those otherwise marginalised from community activities such as people with disabilities).

Although the activities focus on and are organised by young people, groups are also encouraged to include other sections of the community such as women and elders.
Implementation
The YOPP Sports program is implemented by community youth volunteers, with support from the YOPP Sports Officer, Project Officers, Western Province Team Leader and YOPP management.
Implementation focuses on six key components:

Regular (players always attend activities)
Fun (participant's enjoyment)
Inclusive (sports for all girls, boys, adult men and women)
Challenges (sport may be new and exciting but has its ups and downs)
Well organised (sports teams in place, set program, line up of tournament, logistics)
Sustainable (community to take up ownership of the program to keep it going)

A focus of the program is on community led and owned activities, as well as opportunities for communities to engage in inter-community sporting competitions.