ASOP Programs
Epon Keramen - Nauru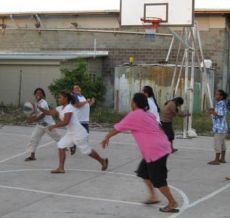 'People gather to play games'
The purpose of the Epon Keramen (EK) program is to deliver 'regular, organised sports run by qualified youth and adults to promote healthy lifestyles, skill development, community building and leadership in all constituencies'.

EK aims to assist in:

increasing the capacity of people from participating communities to manage sport and physical activity programs
increasing the capacity of local young people and adults to deliver regular, organised, inclusive sport and physical activity sessions.

Structure
The EK program has already started in the Yaren community with women as its first main target group. The targeted activities will grow in harmony with sport activities already existing for men, young people and mature aged people.
The sports currently on the EK activity schedule are volleyball and basketball, however there is already enough interest for EK to include aerobics and walking.

Partners
EK is directed by the Nauru Ministry of Health, Justice and Sports, and local communities. There are also national links to government health and education departments.

Participation
The EK program aims to provide opportunities for all members of the community to play sport and engage in physical activity through specific strategies designed to include vulnerable groups, such as unemployed young people, women, children, mature aged people and people with a disability.

Implementation
The EK National Coordinator is based in the Ministry of Health, Justice and Sports and works with individual communities to implement the program. Each community has its own EK management committee which is embedded in the overall community leadership structure. A team of volunteer Sport Leaders conduct the sport and physical activities for participants.

A steering committee consisting of representatives from the departments of sport, education and public health, as well as a community representative, oversees EK's direction and assists with growth at higher levels. The Australian Sports Commission provides ongoing strategic and operational support to this committee.

'We are looking forward to Epon Keramen because it will help us play during the day and the night with qualified coaches and officials who will teach us how to play properly.'
Virgita Rowland — Yaren community member