NSW Youth Championships Results & Report
by
Congratulations to all the competitors at the NSW Youths.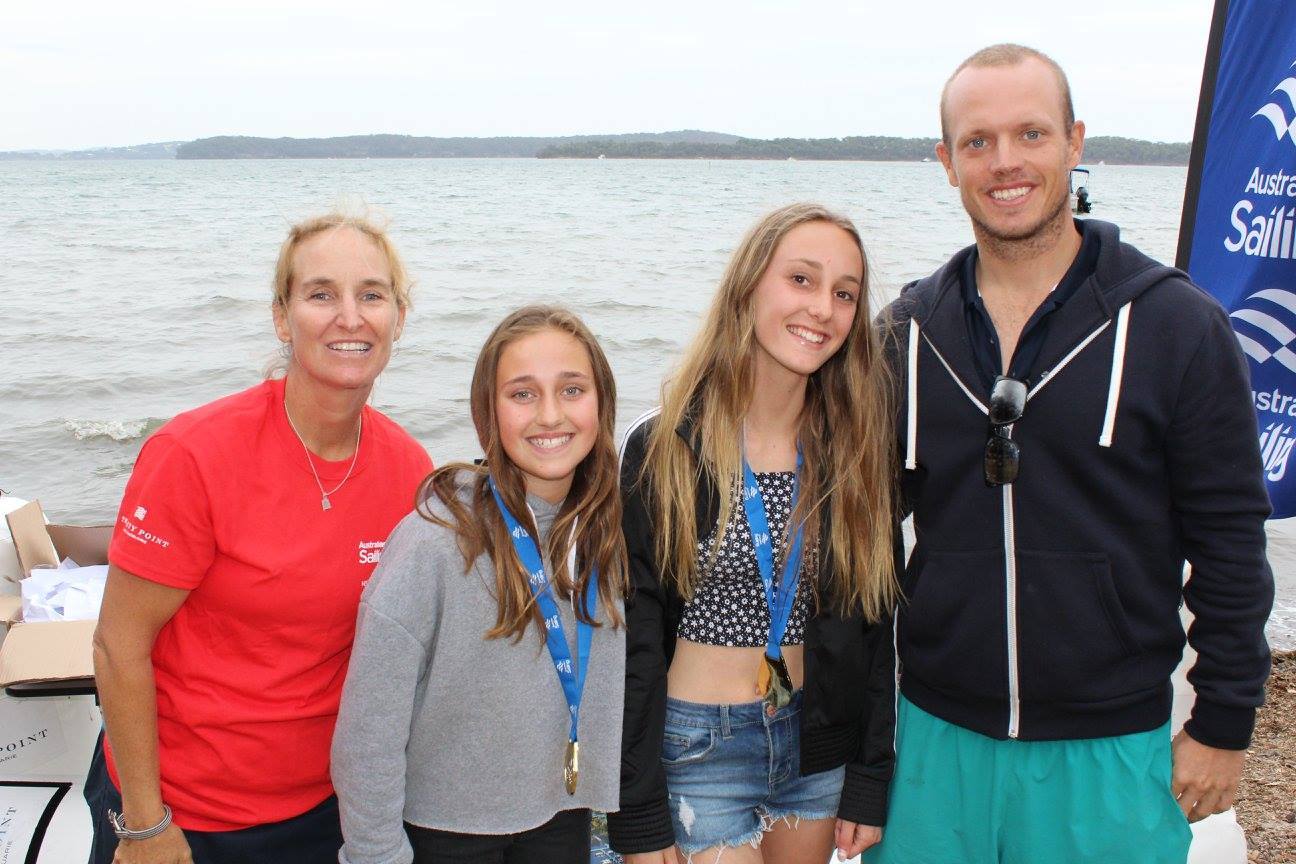 1st Zoe Dransfield & Pearl Twomey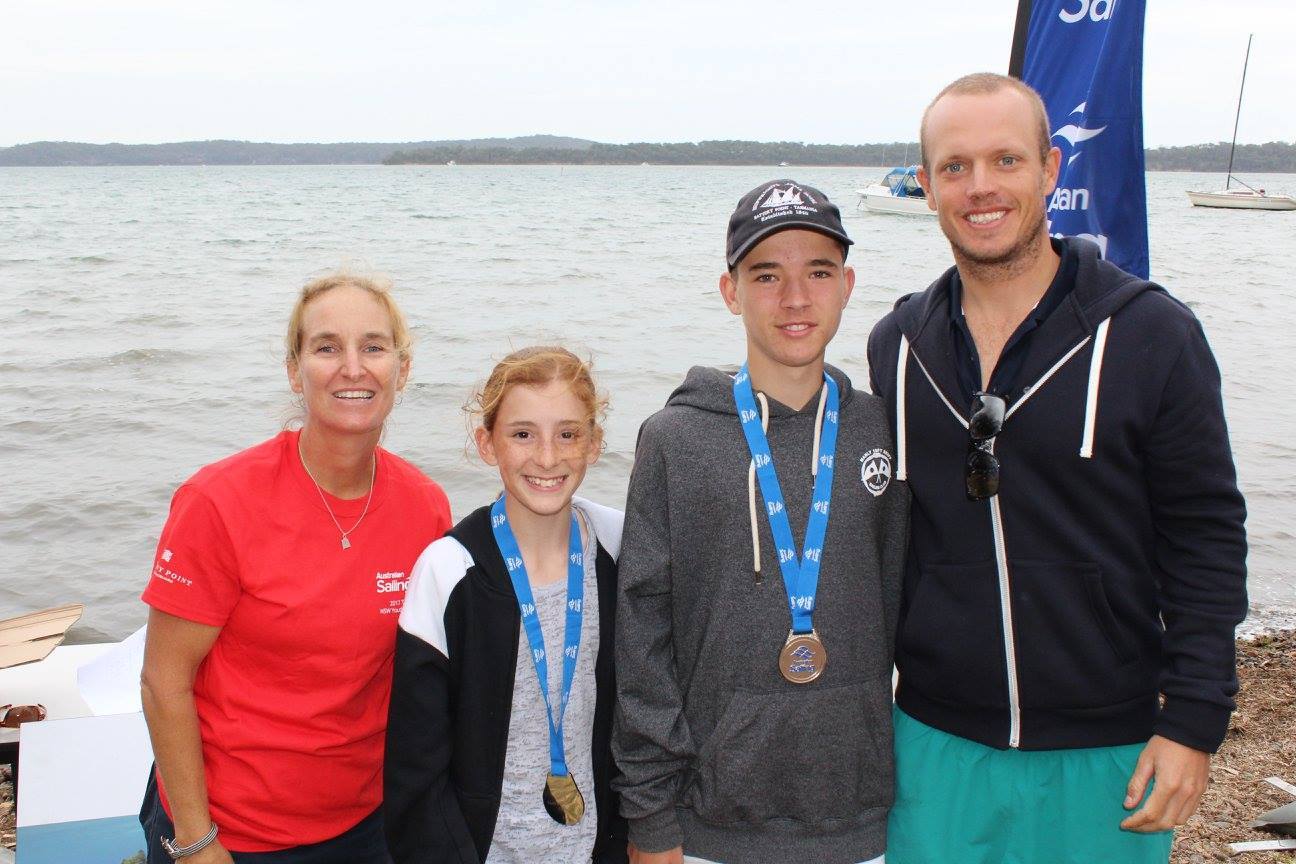 2nd Alex Hart & Sophie Hart

3rd Thomas Steenson & Noah Steenson
Full Results
https://www.sailwave.com/results/NSWYC_f11.htm
Report
23 Flying 11's turned up to South Lake Macquarie Amateur Sailing Club for the 2018 NSW Youth Championships and again comprised the largest double-handed fleet with 7 from Lane Cove, 5 each from Belmont and Manly, 2 each from Northbridge and Hornsby Kuringai and 1 each from Avalon and Hunters Hill.

For those who made the journey, conditions were warm and wonderful with four races on Saturday in 14 – 18 knots, three on Sunday in 8 – 12 knots and two on Monday in 8 – 14 knots. 9 races scheduled and completed and smiles all around. Race and social organisation could not have been better with over 120 volunteers comprising the "Red Army" to assist kids rig, launch, race, retrieve and replenish with free chicken kebabs and sandwiches.
As one of the "Big Four" regattas in NSW each year, this was a great regatta and should be a highlight and a "must attend" for next year, when we hopefully get back to 30 – 35 Flying 11's.
The big news is that for the first time since Olivia Price and Maddie Clancy won the Flying 11 States 2009, an all-girl crew has won one of the Big Four regattas. Zoe Dransfield and Pearl Twomey posted 5 firsts and 3 seconds to hold off Alex and Sophie Hart (2nd) and Thomas and Noah Steenson (3rd).
Manly Coach Dolly Divola said "The girls sailed really smart and made few mistakes for a fabulous overall result. Everyone who was there made noticeable and significant improvement over the nine races which will stand them in good stead for the upcoming first round of the States at Port Kembla in 4 weeks time".
On Sunday afternoon after the racing, Will Horin, Josh Dyer and Zoe Dransfield kindly took 16 Optimist and Sabot sailors out for a spin on their Flying 11's with the kids being ferried to and from the boats via RIB's. Without exception there were huge grins on the faces of all the kids who were in awe of the power and acceleration of the Flying 11. Hopefully we will see some of this new talent coming into the class later in the season as they are all good sailors looking for their next step up in sailing. Big thanks to Will, Josh and Zoe for giving an hour of their time after a very long day of racing.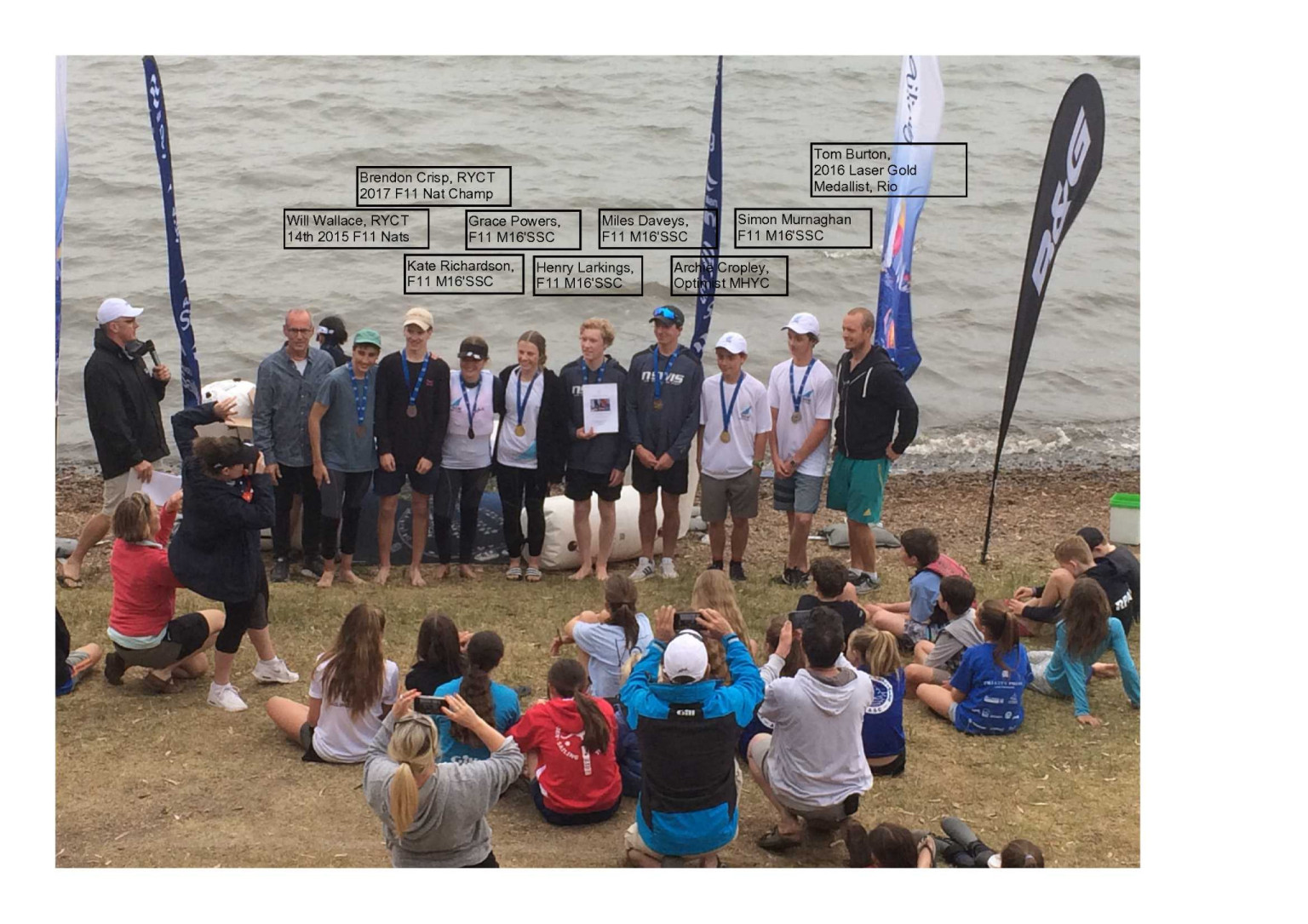 The photograph above shows the 29er winners, most of the sailers have come up through the F11s.
Photos
The offical Photographs are here
If you have any photos that you would like to share please send a link to webmaster@flying11sailing.com.au
There are also some good Youtube videos produced by Oliver Hartas who filmed last years F11 States at Manly.

Day one - https://www.youtube.com/watch?v=n_e411rgrqQ
Day two - https://www.youtube.com/watch?v=pq-OFKL0HVA&t=4s
Last Modified on 04/10/2017 12:17