Sponsors
Dunn's Twin City Cranes
Dunn's Twin City Cranes have signed a sponsorship agreement with the TDFL for the 2016 & 2017 seasons.
Dunn's Twin City Cranes are a locally owned family operated business that have contributed locally with sponsorship towards clubs in several leagues across the North East region.
The Tallangatta & District Football League President Rex Gray said the League Executive committee were thrilled that Dunn's twin city Cranes owners have this year decided to take this commitment to grass roots football support to the next level with the sponsorship of the Tallangatta & District Football League.
Dunn's twin city cranes owners Jon and Melanie Dunn see the Tallangatta & District Football League as a thriving country league with an extremely even competition attracting a lot of interest in the wider Albury Wodonga Football community and they are happy to add the Dunn's Twin City Cranes business name as the major sponsor to the Tallangatta &District Football League competition.
The Commercial Club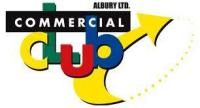 http://www.commclubalbury.com.au/
"The finest club in Albury!"


Victor Sports

http://www.victorsports.com.au/index.cfm
Victor Sports Pty Ltd. (Victor) was established in 1993 and has continuously expanded its business practices and product range to now provide a comprehensive range of sports medical and rehabilitation appliances. Our goal is to equip athletes and medical professionals with the most advanced sports medical products available.