Rules in Pictures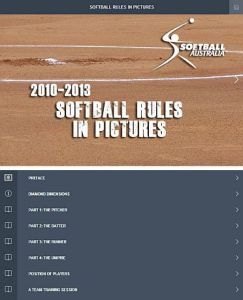 Softball Rules in Pictures app
The first Softball Australia smart phone application, Rules in Pictures, is available for Android and iOS devices.
The Softball Australia Rules in Pictures updated February 2017 is for the softball player, coach, umpire, parent and teacher. It is also a helpful refresher course for the veteran softballer.
The simple illustrations with captions, and an index guiding the reader to the Official Rules in Softball, provide a quick introduction to learning the rules of softball.
This online application gives greater accessibility to the user. You can download to your phone and carry it with you at the field. Whether you are playing, coaching a training session, or taking a course, this application is right at your fingertips!
Where can I get the app?
The app is available on the Google Play store or at the iTunes App Store (click on the images above)
The app is available for $4.95 on Android and $5.49 on iOS (iPhones, iPads).