Tiny Tigers Program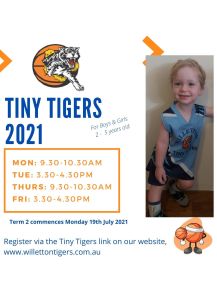 Our Tiny Tigers program has been running since February 2017 and has seen many future basketball stars move through the program.
The Tiny Tigers Program caters for children aged from 2 years of age to 5 years.

Our program will run at the following times in Term 3, 2021.
Monday - 9.30-10.30am (with Coach Amber/Kayla)
Tuesday - 3.30 - 4.30pm (with Coach Jo/Amber/Kayla)
Thursday - 9.30 - 10.30am (with Coach Lexie)
Friday - 3.30 - 4.30pm (with Coach Jo/Amber/Kayla)

Tiny Tigers is a Basketball centred program for Boy's and Girl's aged from 2 years of age to Kindy (5 years) and incorporates many fundamental movement skills such as throwing, catching, running, hopping and skipping as well as developing the basic basketball skills of ball handling, shooting, pivoting, jumping and sliding.
We encourage all children to have a go and interact with their peers in a friendly and non-competitive environment. However our most important goal is for the children to have FUN!
Our Program is run by a qualified Primary School Educator and Basketball Coach.
If you would like further information or would like to register you can do so via the links below or contact Jo on 9310 3388.

GO TINY TIGERS!
If you would like to participate in the remainder of Term 2, please contact the stadium on the number above.
Term 3 2021 Registrations are now OPEN. Term commences Monday 19th July 2021.
8 Week Term - $130.00
REGISTER AT THE LINK BELOW