Senior Competition Information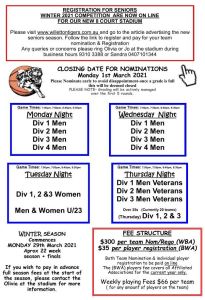 Our Senior competitions are run for all ages for both males and females.
Competitions are played between individually nominated teams
Monday-Thursday nights.
DAY

GRADE

Monday

Men Div 1/2

Men Div 3 FULL


Men Div 4


Tuesday

Women 23s

(23 yrs and under)

Women Div 1

Women Div 2

Men 23s

(23 yrs and under)

Wednesday

Men Div 1/2 - FULL


Men Div 3 FULL

Men Div 4 FULL


Thursday

Men Vets 1*

Men Vets 2*

Men Vets 3*

(Vets 35 and over)

Men Open
Nomination fees are required to secure a place in the competition. This is refunded if unsuccessful.

Nomination and Registraion fee is $300 per a 2 term season

when you nominate your team.

Game fees are $66 per team, per game.

All players are required to pay the $35 BWA affiliation fee when registering at any BWA affilaited club, this fee is valid for 12 months and paid only once during that time and covers all other BWA affiliated venues. This fee is paid directly to BWA on your registration form.
Seasons run Winter and Summer, with nominations for the coming seasons opening in February and August each year. The best way to get involved in our seniors competition is to get a group of friends together and nominate a whole team. Individuals looking to join our competition can either call the stadium on 9310 3388 or email on competitions@willettontigers.com.au
If you're looking for new players, looking for a fill in or are wanting to join a team please join our Facebook page, this will give everyone access to finding players and teams.
Email competitions@willettontigers.com.au if you would like information about entering a team
Winter season starts March 29, 2021
Click on the day you want to register a team to to register a team
Wednesday - 22 rounds
All our players in both Junior and Senior competitions are expected to abide by the Willetton Code of Conduct, the Willetton Way. You can find the Code here.

Please ensure you are up to date with our seniors by-laws which inlcudes interpretation of rules, forfeit inforamtion and fines, finals eligibilty and more. The senior by-laws are can be found here

For more information contact Olivia at the stadium
9310 3388 or email competitions@willettontigers.com.au