Latest News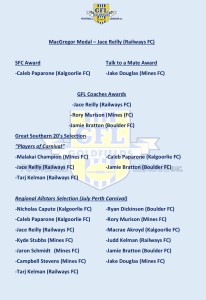 Great Southern Colts Carnival
Well now the dust has settled, and the players are home safe here is the round up from the weekend's carnival. Firstly, to our players and coaches – 6 wins from 7 games – what an effort for a group of young players that have played limited football over the past 20 months due to COVID interrupting our 2020 season. Just a magnificent effort from each and everyone of the players that all played well, and all contributed. Of course, there are some individual achievements we need to acknowledge too.
A big thanks to coach Rhett Foster, helpers & assistants Brodie Peterson, Carl Armstrong, Kody Kelman for the coaching and mentoring of the players. To Brendon Simpson our rep football coordinator who is just so professional and GFL Commissioner Brent Gouge for the countless hours getting everything organised. Thanks to Paula our trainer, George our goal umpire and Anthony our field umpire for making the journey with us.
To our main sponsors in Boulder Rotary, Westauz Mining, Corefleet, Paradise Pools, IKKA Steel, Demolition WA, Brendon Penn Cranes, ABBA Engineering, Sandvik, Subiaco Football Club, Buswest and our loyal "Rep Footy" supporters and parent's and families who made all travelled to Kulin and to the entire GFL and Clubland… We thank you for believing in us and getting behind the concept.