Season Statistics
PPG


RPG


APG
3.8
FG%

Player Profile
Zoe Harper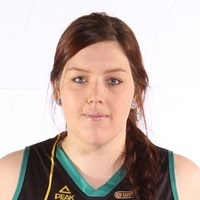 DOB: 01.03.88
Height: 191cm
Junior Club: Albany (WA)
WNBL Clubs: West Coast Waves: 2011 – Current.
WNBL Championships: Nil.
Bio: After four years at the University of Minnesota in America's north, Harper returned home to Western Australia to begin her WNBL career with the West Coast Waves in 2010.
The 191cm centre made an instant impact, playing all 22 games, putting up 5.9 points and 6 rebounds per game.
The momentum of a strong second season was brought to a halt as injury restricted the Albany junior to just two games last season.
Now returning to full fitness, Harper will be eager to form a strong frontcourt partnership with Natalie Burton.
Season Statistics

2PT
3PT
FT
Rebounds
M
MIN
2PM-A
1st Half H.S
3PM-A
3PT
%
FTM-A
FT %
TOT
AST
PTS
Season
19
30/10/2011
32 - 96
33.3
22 - 2
16
- - Dandenong
3.8
Career
88
26/11/2010
- - -
0.0
139 - 9
91
- - -
4.0
Previous Seasons

Competition
Season
M
MIN
2PM-A
1st Half H.S
3PM-A
3PT
%
FTM-A
FT %
PF
Total Pts
TOT
AST
PTS
2014/15
2014
20
20/12/2014
20 - 63
31.7
29 - -
14
- - UC Capitals
48.3
2.8
2013/14
2013
24
20/10/2013
36 - 83
43.4
40 - 4
26
- - Logan
65.0
3.4
2012/13
2
27/10/2012
4 - 5
80.0
1 - -
- - Adelaide
0.0
3.0
2011/12
Summer
19
30/10/2011
32 - 96
33.3
22 - 2
16
- - Dandenong
72.7
3.8
2010/11
Summer
22
26/11/2010
- - -
0.0
45 - 3
33
- - Townsville
73.3
6.0
2000/01
Summer
1
20/01/2001
2 - 8
25.0
2 - -
2
- - Melbourne
100.0
1.0