Season Statistics
PPG


RPG


APG
5.3
FG%

Player Profile
Sara Blicavs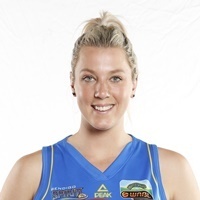 DOB: 15.02.93
Height: 189cm
Junior Club: Melbourne Tigers (VIC)
WNBL Clubs: AIS 2009 – 2012; Dandenong Rangers 2012/13; Bendigo Spirit 2013 – 2015.
WNBL Championships: (1) Bendigo Spirit 2014.
Bio: It was in her final season at the AIS that Blicavs took the lead role as injuries decimated the young roster, averaging more than 12 points and 5 rebounds per game. This attracted interest from around the league, with the Melbourne junior signing with the Dandenong Rangers.
19 points in her first game for the Rangers saw the then 19-year-old quickly become a fan favourite and a key energy player off the bench. Blicavs played a leading role in the 2011 FIBA Under 19 World Championship and showed off her amazing athleticism in capturing bronze at the 2012 FIBA 3X3 Women's World Championship.
Earning her first senior Opals call-up for the 2013 tour of China, Blicavs will be out to push for more senior selection with a strong season at the Bendigo Spirit enjoyed a successful first season in Central Victoria, helping the team win a second WNBL Championship.
Career Highlights: World University Games: 2013 (Bronze), FIBA 3X3 Women's World Championship: 2012 (Bronze), FIBA U19 World Championship: 2011 (Semi Final), FIBA U17 World Championship: 2010.
Season Statistics

2PT
3PT
FT
Rebounds
M
MIN
2PM-A
1st Half H.S
3PM-A
3PT
%
FTM-A
FT %
TOT
AST
PTS
Season
21
25/11/2011
106 - 245
43.3
61 - 10
37
- - Townsville
5.3
Career
147
27/02/2016
- - -
0.0
381 - 117
269
- - -
4.7
Previous Seasons

Competition
Season
M
MIN
2PM-A
1st Half H.S
3PM-A
3PT
%
FTM-A
FT %
PF
Total Pts
TOT
AST
PTS
2015/16
2015
25
27/02/2016
120 - 296
40.5
102 - 33
85
- - SEQ Stars
83.3
6.6
2014/15
2014
25
16/11/2014
98 - 212
46.2
75 - 29
57
- - Dandenong
76.0
4.7
2013/14
2013
26
26/01/2014
85 - 192
44.3
51 - 22
40
- - Townsville
78.4
3.7
2012/13
26
05/10/2012
82 - 174
47.1
38 - 11
18
- - Bulleen
47.4
4.1
2011/12
Summer
21
25/11/2011
106 - 245
43.3
61 - 10
37
- - Townsville
60.7
5.3
2010/11
Summer
16
04/02/2011
- - -
0.0
48 - 10
29
- - Logan
60.4
4.6
2009/10
Summer
8
22/01/2010
- - -
0.0
6 - 2
3
- - Sydney
50.0
2.4