Season Statistics
PPG


RPG


APG
3.8
FG%

Player Profile
Rachael Mccully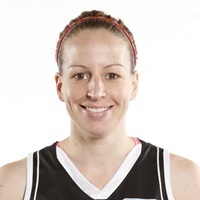 DOB: 05.04.82
Height: 169cm
Junior Club: Forestville Eagles (SA)
WNBL Clubs: Adelaide Lightning 2000 – 2004; Dandenong Rangers 2007/08; Townsville Fire 2004 – 2007, 2008 – Current.
WNBL Championships: Nil.
Bio: This South Australian has made Townsville her home, becoming one of the WNBL's premier defenders and captain of the rejuvenated Fire team under coach Chris Lucas.
McCully got her break with the Adelaide Lightning in the 2000/01 season, going on to play four seasons with her hometown club before signing on with Townsville in 2004. The guard has embraced North Queensland, playing all but one season (2007/08 for the Dandenong Rangers) since 2004 with the Fire.
In her second stint at the club, McCully claimed back-to-back Robyn Maher WNBL Defensive Player of the Year awards and helped the Fire become finals regulars – reaching their first WNBL Grand Final in club history last season.
Assuming assistant coaching duties at the start of last season and with 275 WNBL games (180 of those for Townsville) of experience expect McCully to be the on-floor general for the Fire this season.
Career Highlights: WNBL Defensive Player of the Year: 2010, 2011, World University Games: 2005 (Bronze) FIBA Oceania Championship: 2011.
Season Statistics

2PT
3PT
FT
Rebounds
M
MIN
2PM-A
1st Half H.S
3PM-A
3PT
%
FTM-A
FT %
TOT
AST
PTS
Season
24
15/10/2011
60 - 147
40.8
34 - 44
23
- - Canberra
3.8
Career
324
12/11/2010
- - -
0.0
621 - 382
478
- - -
2.8
Previous Seasons

Competition
Season
M
MIN
2PM-A
1st Half H.S
3PM-A
3PT
%
FTM-A
FT %
PF
Total Pts
TOT
AST
PTS
2014/15
2014
24
13/12/2014
44 - 97
45.4
39 - 37
27
- - Sydney Uni
69.2
2.8
2013/14
2013
25
18/01/2014
64 - 144
44.4
70 - 21
62
- - Bendigo
88.6
3.6
2012/13
27
04/01/2013
41 - 114
36.0
54 - 42
42
- - Adelaide
77.8
2.9
2011/12
Summer
24
15/10/2011
60 - 147
40.8
34 - 44
23
- - Canberra
67.6
3.8
2010/11
Summer
22
12/11/2010
- - -
0.0
62 - 54
44
- - AIS
71.0
3.0
2009/10
Summer
21
17/02/2010
- - -
0.0
108 - 42
85
- - Bendigo
78.7
3.3
2008/09
Summer
24
15/02/2009
- - -
0.0
38 - 45
26
- - Canberra
68.4
3.5
2006/07
Summer
19
17/11/2006
32 - 64
50.0
43 - 16
35
- - Adelaide
81.4
3.4
2005/06
Summer
21
08/10/2005
41 - 105
39.0
45 - 14
37
- - Sydney
82.2
3.1
2004/05
Summer
21
12/11/2004
35 - 71
49.3
38 - 17
28
- - Dandenong
73.7
3.9
2007/08
Summer
26
03/11/2007
- - -
0.0
42 - 27
36
- - Christchurch
85.7
3.1
2003/04
Summer
23
04/10/2003
12 - 39
30.8
30 - 8
23
- - Townsville
76.7
2.0
2002/03
Summer
18
15/12/2002
3 - 16
18.8
8 - 1
3
- - Bulleen
37.5
0.6
2001/02
Summer
22
01/12/2001
11 - 32
34.4
10 - 8
7
- - Bulleen
70.0
0.8
2000/01
Summer
6
10/02/2001
2 - 2
100.0
- - -
- - Bulleen
0.0
0.3