Season Statistics
PPG


RPG


APG
6.4
FG%

Player Profile
Olivia Thompson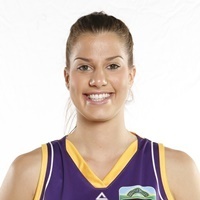 DOB: 20.01.93

Height: 187cm

Junior Club: Forestville (SA)
WNBL Clubs: AIS 2009 – 2012; Townsville Fire 2012 – Current.
WNBL Championships: Nil.
Bio: It was in her final season at the AIS where Thompson emerged as one of the most exciting prospects in the WNBL. Injuries ravaged the young team and Thompson stepped up to average more than 10 points and 6 rebounds.
This made the South Australian a hot commodity on the open market, eventually deciding on Townsville as her next destination. The 187cm forward fitted seamlessly into the Fire rotation, providing energy and offensive power in the team's run to the WNBL Grand Final.
A genuine star of the future in the WNBL and potentially on the international stage.

Career Highlights: World University Games: 2013 (Bronze), FIBA U17 World Championships: 2010.
Season Statistics

2PT
3PT
FT
Rebounds
M
MIN
2PM-A
1st Half H.S
3PM-A
3PT
%
FTM-A
FT %
TOT
AST
PTS
Season
22
25/11/2011
96 - 220
43.6
49 - 2
32
- - Townsville
6.4
Career
143
25/11/2011
- - -
0.0
174 - 6
117
- - -
4.4
Previous Seasons

Competition
Season
M
MIN
2PM-A
1st Half H.S
3PM-A
3PT
%
FTM-A
FT %
PF
Total Pts
TOT
AST
PTS
2015/16
2015
24
25/01/2016
64 - 141
45.4
13 - 1
9
- - Dandenong Rangers
69.2
3.5
2014/15
2014
22
06/12/2014
96 - 189
50.8
26 - -
18
- - West Coast
69.2
6.1
2013/14
2013
20
17/11/2013
27 - 59
45.8
14 - -
11
- - West Coast
78.6
2.7
2012/13
27
12/10/2012
88 - 195
45.1
45 - -
31
- - Canberra
68.9
4.3
2011/12
Summer
22
25/11/2011
96 - 220
43.6
49 - 2
32
- - Townsville
65.3
6.4
2010/11
Summer
21
22/01/2011
- - -
0.0
23 - 2
13
- - West Coast
56.5
4.2
2009/10
Summer
7
19/12/2009
- - -
0.0
4 - 1
3
- - Dandenong
75.0
1.7