Season Statistics
PPG


RPG


APG
2.0
FG%

Player Profile
Micaela Cocks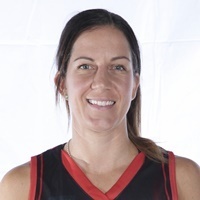 Micaela Cocks
DOB: 02.05.86
Height: 178cm
Junior Club: Auckland (NZ)
WNBL Clubs: Townsville Fire 2011/12 – Current.
WNBL Championships: (1) Townsville Fire 2014/15.
Bio: Cocks has become a key figure for the JCU Townsville Fire and the New Zealand Tall Ferns, producing big time performances for both teams in 2013. The Auckland native came to the WNBL via the University of Oregon in 2011, joining the Fire and immediately adding quality to the roster.
Playing in either guard position, Cocks is widely regarded as one of the WNBL's fiercest defenders and best three-point shooters - causing havoc at either end of the court.
During the 2014/15 season, Cocks became just the sixth player to represent the Fire on 100 occasions and was a key signing following the club's maiden WNBL championship.
Career Highlights: Olympic Games: 2008, Commonwealth Games: 2006 (Silver), FIBA Oceania Championships: 2013, 2015.
Season Statistics

2PT
3PT
FT
Rebounds
M
MIN
2PM-A
1st Half H.S
3PM-A
3PT
%
FTM-A
FT %
TOT
AST
PTS
Season
24
12/11/2011
76 - 179
42.5
48 - 56
41
- - Sydney
2.0
Career
131
30/11/2013
- - -
0.0
238 - 367
189
- - -
2.3
Previous Seasons

Competition
Season
M
MIN
2PM-A
1st Half H.S
3PM-A
3PT
%
FTM-A
FT %
PF
Total Pts
TOT
AST
PTS
2015/16
2015
28
15/11/2015
59 - 136
43.4
68 - 93
54
- - Melbourne Boomers
79.4
2.7
2014/15
2014
24
29/11/2014
38 - 89
42.7
26 - 56
20
- - West Coast
76.9
1.5
2013/14
2013
27
30/11/2013
70 - 169
41.4
45 - 96
33
- - West Coast
73.3
3.3
2012/13
27
03/03/2013
56 - 155
36.1
51 - 64
41
- - Dandenong
80.4
1.6
2011/12
Summer
24
12/11/2011
76 - 179
42.5
48 - 56
41
- - Sydney
85.4
2.0