Season Statistics
PPG


RPG


APG
2.8
FG%

Player Profile
Kristen Veal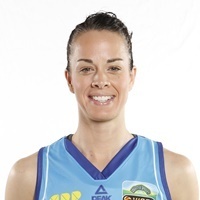 DOB: 24.07.81
Height: 176cm
Junior Club: Norwood Flames (SA)
WNBL Clubs: AIS 1997 – 1999; Canberra Capitals 1999 – 2004; Sydney Uni Flames 2005 – 2008; Logan Thunder 2008 – Current.
WNBL Championships: (4) AIS 1999; Canberra Capitals 2000, 2002, 2003.
Bio: Emerging on the scene alongside Lauren Jackson, Suzy Batkovic and Penny Taylor as part of the AIS team that created history in winning the 1999 WNBL Championship, Veal quickly became a household name.
She remained in Canberra, joining the Capitals and adding a further three titles to her trophy cabinet – all the while she was creating history in America, becoming the then youngest player to be selected in the WNBA Draft.
At just 19 Veal was selected at pick 13 of the 2001 WNBA Draft by the Phoenix Mercury, just the second Australian to be selected in the first round behind former AIS and Canberra teammate Lauren Jackson.
Despite a lucrative deal to stay in the WNBA, Veal decided against extending her stay in the USA and after a successful stint in Canberra, the then 24-year-old took her talents to Sydney in 2005.
A brief, but successful, stay in Sydney saw the team reach back-to-back finals, before Veal was offered the chance to take on a leadership role at the new WNBL club – the Logan Thunder in 2008.
In her five seasons at the Thunder, Veal has played over 100 games for the club and is seen as the spiritual leader of the team. After a solid 2012/13 season in southern Queensland, Veal was called into the Opals squad by Head Coach Brendan Joyce.
Career Highlights: WNBL All-Star Five: 2003, FIBA Oceania Championships: 2003, 2013, FIBA Junior Women's
World Championships: 1997 (Silver), Youngest ever player selected in WNBA Draft in 2001 (19), Drafted at pick 13 of the 2001 WNBA Draft by the Phoenix Mercury.
Season Statistics

2PT
3PT
FT
Rebounds
M
MIN
2PM-A
1st Half H.S
3PM-A
3PT
%
FTM-A
FT %
TOT
AST
PTS
Season
22
15/10/2011
20 - 60
33.3
25 - 97
20
- - Dandenong
2.8
Career
372
11/03/2000
- - -
0.0
815 - 1424
620
- - -
5.0
Previous Seasons

Competition
Season
M
MIN
2PM-A
1st Half H.S
3PM-A
3PT
%
FTM-A
FT %
PF
Total Pts
TOT
AST
PTS
2015/16
2015
13
02/01/2016
2 - 11
18.2
8 - 12
5
- - Sydney Uni Flames
62.5
1.5
2014/15
2014
19
09/11/2014
18 - 34
52.9
27 - 70
19
- - West Coast
70.4
3.5
2013/14
2013
24
15/12/2013
28 - 69
40.6
47 - 93
38
- - Canberra
80.9
4.5
2007/08
Summer
26
05/01/2008
- - -
0.0
27 - 145
24
- - AIS
88.9
4.3
2006/07
Summer
23
03/12/2006
29 - 81
35.8
40 - 97
26
- - West Coast
65.0
4.7
2005/06
Summer
5
14/01/2006
10 - 15
66.7
10 - 19
8
- - Canberra
80.0
4.2
2012/13
24
20/01/2013
30 - 84
35.7
38 - 106
32
- - West Coast
84.2
5.5
2011/12
Summer
22
15/10/2011
20 - 60
33.3
25 - 97
20
- - Dandenong
80.0
2.8
2010/11
Summer
24
23/01/2011
- - -
0.0
93 - 59
73
- - Sydney
78.5
7.0
2009/10
Summer
21
16/01/2010
- - -
0.0
89 - 79
67
- - Sydney
75.3
5.6
2008/09
Summer
22
25/01/2009
- - -
0.0
48 - 115
35
- - AIS
72.9
6.6
2003/04
Summer
21
13/12/2003
49 - 118
41.5
41 - 133
27
- - West Coast
65.9
6.1
2002/03
Summer
23
07/12/2002
56 - 159
35.2
77 - 108
60
- - Bulleen
77.9
5.7
2001/02
Summer
8
07/12/2001
14 - 40
35.0
10 - 24
9
- - AIS
90.0
4.8
2000/01
Summer
23
04/02/2001
74 - 173
42.8
34 - 93
28
- - AIS
82.4
6.4
1999/00
24
11/03/2000
77 - 171
45.0
70 - 57
53
- - Adelaide
75.7
5.9
1998/99
19
06/11/1998
59 - 117
50.4
51 - 65
34
- - Adelaide
66.7
5.4
1998
14
14/03/1998
31 - 82
37.8
42 - 23
33
- - Melbourne
78.6
4.5
1997
17
04/05/1997
42 - 100
42.0
38 - 29
29
- - Canberra
76.3
3.9