Season Statistics
PPG


RPG


APG
4.8
FG%

Player Profile
Johannah Leedham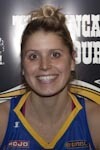 PERSONAL:
DOB : 05/12/1987; Height: 180cm
POSITION: Guard/Forward
JUNIOR ASSOCIATION: Ellesmere Port Panthers (EBL)
INTERNATIONAL GAMES: 2009 World University Games (Great Britain); 2011 Eurobasket (Great Britain)
WNBL CAREER NOTES: This is Johannah's debut season in the WNBL
GENERAL BASKETBALL CAREER NOTES:
2011 Johannah represented Great Britain at the European Championships; 2010-2011 Johannah played for KSSSE AZS PWSZ Gorzow Wlkp in Poland-PLKK, left in Jan.'11, because of injury: Euroleague: 9 games: 9.7ppg, 3.1rpg, 1.2apg, 2.1spg, FGP: 45.1%, 3PT: 24.1%, FT: 80.0%; Polish League: 16 games: 10.8ppg, 4.4rpg, 1.5apg, Steals-5(2.2spg), FGP: 53.7%, 3PT: 25.0%, FT: 76.7%...2010: drafted by Connecticut Sun (WNBA, 3rd(27))… 2006-2010 Johannah spent four years playing for US college Franklin Pierce (NCAA2).
PERSONAL INFORMATION:
Born in Chester, England. Daughter of Kim and Sue Leedham, has two sisters Jen (25) and Kirsty (22). Started playing basketball at age 13.
COACH'S COMMENTS:
Jo moves to the WNBL to develop her game. A good team person with special talent and could be a star in our league.
Season Statistics

2PT
3PT
FT
Rebounds
M
MIN
2PM-A
1st Half H.S
3PM-A
3PT
%
FTM-A
FT %
TOT
AST
PTS
Season
19
13/11/2011
49 - 117
41.9
32 - 71
27
- - Dandenong
4.8
Career
19
13/11/2011
- - -
0.0
32 - 71
27
- - -
4.8
Previous Seasons

Competition
Season
M
MIN
2PM-A
1st Half H.S
3PM-A
3PT
%
FTM-A
FT %
PF
Total Pts
TOT
AST
PTS
2011/12
Summer
19
13/11/2011
49 - 117
41.9
32 - 71
27
- - Dandenong
84.4
4.8