Season Statistics
PPG


RPG


APG
2.0
FG%

Player Profile
Jessica Bibby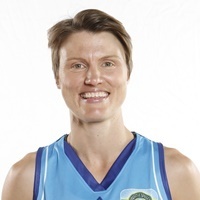 DOB: 23.08.79
Height: 169cm
Junior Club: Kilsyth Cobras (VIC)
WNBL Clubs: Dandenong Rangers 1996 – 2001, 2003 – 2006; Canberra Capitals 2006/07 – Current.
WNBL Championships: (5) Dandenong Rangers 2004, 2005; Canberra Capitals 2007, 2009, 2010.
Bio: Emerging as a 16-year-old with the Dandenong Rangers back in 1996, Bibby is second only to Adelaide's Jo Hill in games played among active players with more than 320 to her name.
A player with an uncanny knack of scoring a will, Bibby became a fixture in the Rangers team during her early years, playing more than 160 games in nine seasons at the club, winning two WNBL championships.
In 2006 Bibby moved north to Canberra, where she would play a major role in guiding the Capitals to three titles in four seasons – a period where Bibby was averaging career-best numbers in points and three-point shooting.
The 34-year-old continues to be a leader for the Caps and will play a huge role in the club's rebuilding as she nears 350 WNBL games.
Career Highlights: FIBA Women's Junior World Championship: 1997 (Silver), FIBA Oceania championships: 2003, 2005, 2009, 2011, Drafted at 45th overall in 2000 WNBA Draft to New York Liberty, WNBL Life Member, WNBL Rookie of the Year: 1996.
Season Statistics

2PT
3PT
FT
Rebounds
M
MIN
2PM-A
1st Half H.S
3PM-A
3PT
%
FTM-A
FT %
TOT
AST
PTS
Season
22
13/11/2011
57 - 157
36.3
58 - 101
46
- - West Coast
2.0
Career
394
14/01/2005
- - -
0.0
1010 - 1711
807
- - -
1.6
Previous Seasons

Competition
Season
M
MIN
2PM-A
1st Half H.S
3PM-A
3PT
%
FTM-A
FT %
PF
Total Pts
TOT
AST
PTS
2015/16
2015
24
14/11/2015
32 - 84
38.1
31 - 102
24
- - Adelaide Lightning
77.4
0.9
2014/15
2014
21
18/10/2014
18 - 78
23.1
32 - 77
29
- - Sydney Uni
90.6
0.8
2013/14
2013
24
18/01/2014
73 - 161
45.3
97 - 128
83
- - West Coast
85.6
1.1
2005/06
Summer
8
15/01/2006
2 - 9
22.2
8 - 10
7
- - West Coast
87.5
0.5
2004/05
Summer
23
14/01/2005
70 - 163
42.9
91 - 91
75
- - Canberra
82.4
2.4
2003/04
Summer
23
01/02/2004
29 - 74
39.2
49 - 63
43
- - Sydney
87.8
1.0
2000/01
Summer
23
28/01/2001
84 - 194
43.3
62 - 109
50
- - Sydney
80.6
1.2
1999/00
21
07/11/1999
81 - 180
45.0
83 - 95
64
- - Adelaide
77.1
2.4
1998/99
21
18/12/1998
45 - 95
47.4
47 - 68
35
- - Bulleen
74.5
2.1
1998
11
27/03/1998
16 - 38
42.1
14 - 58
11
- - Brisbane
78.6
1.2
1997
17
02/08/1997
37 - 74
50.0
47 - 102
37
- - Brisbane
78.7
1.6
1996
17
30/06/1996
16 - 31
51.6
23 - 27
17
- - Tassie
73.9
1.2
2012/13
24
10/02/2013
74 - 185
40.0
63 - 111
53
- - Bulleen
84.1
1.5
2011/12
Summer
22
13/11/2011
57 - 157
36.3
58 - 101
46
- - West Coast
79.3
2.0
2010/11
Summer
23
10/12/2010
- - -
0.0
55 - 111
37
- - AIS
67.3
1.1
2009/10
Summer
23
20/11/2009
- - -
0.0
56 - 125
43
- - Logan
76.8
1.4
2008/09
Summer
22
21/11/2008
- - -
0.0
64 - 112
51
- - Sydney
79.7
2.2
2007/08
Summer
23
17/10/2007
- - -
0.0
56 - 129
47
- - Sydney
83.9
2.3
2006/07
Summer
24
06/10/2006
110 - 233
47.2
74 - 92
55
- - Dandenong
74.3
3.2