Season Statistics
PPG


RPG


APG
2.1
FG%

Player Profile
Jaimee Kennedy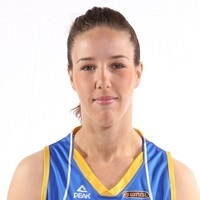 DOB: 20.03.88
Height: 178cm
Junior Club: Shoalhaven (NSW)
WNBL Clubs: AIS 2006 – 2008; Sydney Uni Flames 2008 – Current.
WNBL Championships: Nil.
Bio: Kennedy has become a regular on the Flames roster over the past five seasons, racking up more than 100 games for the club since joining ahead of the 2008/09 WNBL season.
The guard spent two seasons with the AIS, earning a spot on the Australian Gems team for the 2007 FIBA Under 19 World Championships before making the move to Sydney at 20.
Kennedy has not missed a game for the past three seasons and will continue to be an important role player for the Flames in season 2013/14.
Career Highlights: FIBA U19 World Championships: 2007.
Season Statistics

2PT
3PT
FT
Rebounds
M
MIN
2PM-A
1st Half H.S
3PM-A
3PT
%
FTM-A
FT %
TOT
AST
PTS
Season
20
16/10/2011
15 - 35
42.9
3 - 1
2
- - West Coast
2.1
Career
151
16/10/2011
- - -
0.0
86 - 27
47
- - -
2.3
Previous Seasons

Competition
Season
M
MIN
2PM-A
1st Half H.S
3PM-A
3PT
%
FTM-A
FT %
PF
Total Pts
TOT
AST
PTS
2013/14
2013
24
07/12/2013
10 - 36
27.8
8 - -
4
- - Adelaide
50.0
2.5
2012/13
24
13/10/2012
22 - 62
35.5
28 - 3
21
- - Adelaide
75.0
3.8
2011/12
Summer
20
16/10/2011
15 - 35
42.9
3 - 1
2
- - West Coast
66.7
2.1
2010/11
Summer
22
20/11/2010
- - -
0.0
12 - -
5
- - AIS
41.7
1.5
2009/10
Summer
18
07/11/2009
- - -
0.0
6 - 5
2
- - Dandenong
33.3
1.2
2008/09
Summer
18
06/12/2008
- - -
0.0
5 - 5
2
- - Logan
40.0
2.3
2007/08
Summer
23
10/10/2007
- - -
0.0
16 - 12
7
- - Canberra
43.8
2.3
2006/07
Summer
2
07/10/2006
2 - 3
66.7
8 - 1
4
- - Dandenong
50.0
4.5