Season Statistics
PPG


RPG


APG
1.1
FG%

Player Profile
Clare Papavs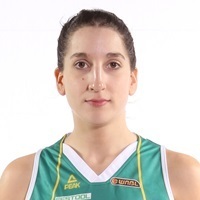 DOB: 11.03.87

Height: 180cm

Junior Club: Kilsyth (VIC)
WNBL Clubs: Dandenong Rangers 2007 – 2010; Townsville Fire 2010/11; Dandenong Rangers 2011 – Current.
WNBL Championships: (1) Dandenong Rangers 2012.
Bio: Papavs has played all but one of her WNBL seasons with the Rangers and returns to action for the 2013/14 campaign after injury cruelled her ability to help Dandenong defend their 2012 WNBL title.
The guard missed the entire season and will be eager to return to action and add to her 92 WNBL games as part of the new-look Rangers roster.
Career Highlights: SEABL Grand Final MVP: 2008.
Season Statistics

2PT
3PT
FT
Rebounds
M
MIN
2PM-A
1st Half H.S
3PM-A
3PT
%
FTM-A
FT %
TOT
AST
PTS
Season
20
23/10/2011
14 - 32
43.8
18 - 5
11
- - AIS
1.1
Career
85
11/10/2008
- - -
0.0
80 - 44
58
- - -
1.3
Previous Seasons

Competition
Season
M
MIN
2PM-A
1st Half H.S
3PM-A
3PT
%
FTM-A
FT %
PF
Total Pts
TOT
AST
PTS
2013/14
2013
7
08/02/2014
- - 1
0.0
2 - 3
1
- - Bendigo
50.0
0.4
2010/11
Summer
17
15/01/2011
- - -
0.0
18 - 9
12
- - Bendigo
66.7
2.1
2011/12
Summer
20
23/10/2011
14 - 32
43.8
18 - 5
11
- - AIS
61.1
1.1
2009/10
Summer
14
24/10/2009
- - -
0.0
8 - 15
6
- - Bulleen
75.0
1.2
2008/09
Summer
18
11/10/2008
- - -
0.0
29 - 12
24
- - Logan
82.8
1.4
2007/08
Summer
9
08/02/2008
- - -
0.0
5 - -
4
- - West Coast
80.0
1.1