Season Statistics
PPG


RPG


APG
3.0
FG%

Player Profile
Casey Samuels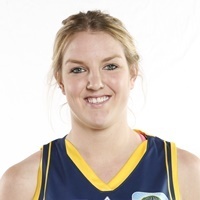 DOB: 02.08.94
Height: 180cm
Junior Club: Bankstown (NSW)
WNBL Clubs: AIS 2010 – 2012; Canberra Capitals 2012/13; Sydney Uni Flames 2013 – Current.
WNBL Championships: Nil.
Bio: An exciting prospect at the guard position, Samuels played 10 games in her first season with the Canberra Capitals, coming off a productive final season with the AIS in the 2011/12 season.
The 19-year-old will be eager to get a full season under her belt and build on her impressive late season form for the Caps.
Samuels is seen as one of the bright young talents emerging in the WNBL after helping the Jayco Australian Gems to bronze at the 2013 FIBA Under 19 World Championships.
Career Highlights: FIBA U19 World Championships: 2013 (Bronze).
Season Statistics

2PT
3PT
FT
Rebounds
M
MIN
2PM-A
1st Half H.S
3PM-A
3PT
%
FTM-A
FT %
TOT
AST
PTS
Season
21
14/12/2011
42 - 93
45.2
50 - 57
33
- - Canberra
3.0
Career
110
14/12/2011
- - -
0.0
159 - 336
116
- - -
2.5
Previous Seasons

Competition
Season
M
MIN
2PM-A
1st Half H.S
3PM-A
3PT
%
FTM-A
FT %
PF
Total Pts
TOT
AST
PTS
2015/16
2015
24
13/02/2016
30 - 87
34.5
27 - 84
22
- - Perth Lynx
81.5
2.8
2014/15
2014
24
19/12/2014
29 - 72
40.3
30 - 93
26
- - Bendigo
86.7
3.1
2013/14
2013
24
26/10/2013
28 - 78
35.9
32 - 65
26
- - Adelaide
81.3
1.7
2012/13
10
11/01/2013
20 - 51
39.2
10 - 21
5
- - Adelaide
50.0
1.6
2011/12
Summer
21
14/12/2011
42 - 93
45.2
50 - 57
33
- - Canberra
66.0
3.0
2010/11
Summer
7
04/02/2011
- - -
0.0
10 - 16
4
- - Logan
40.0
1.9