Season Statistics
PPG


RPG


APG
6.5
FG%

Player Profile
Brigitte Ardossi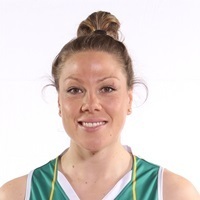 DOB: 07.08.87

Height: 188cm

Junior Club: Werribee (VIC)
WNBL Clubs: Canberra Capitals 2011 – 2013; Dandenong Rangers 2013 – Current.
WNBL Championships: Nil.
Bio: Finishing a four-year stay at Georgia Tech University with one of the most dominant seasons in school history (16 points and 7 rebounds per game), Ardossi was selected in the second round of the 2010 WNBA Draft by the Atlanta Dream.
A contact offer from the Dream was not forthcoming, so Ardossi took her talents to France, enjoying a one season stay with Cote D'Opale Basket Calais.
The Canberra Capitals took the opportunity to bring Ardossi back to home shores and she did not disappoint, building on a solid rookie season to be one of the club's best players in a tough 2012/13 WNBL season.
Career Highlights: Drafted 21st overall in 2010 WNBA Draft by the Atlanta Dream, Georgia State Women's Basketball Player of the Year: 2010.
Season Statistics

2PT
3PT
FT
Rebounds
M
MIN
2PM-A
1st Half H.S
3PM-A
3PT
%
FTM-A
FT %
TOT
AST
PTS
Season
22
02/12/2011
73 - 159
45.9
50 - -
43
- - West Coast
6.5
Career
68
02/11/2012
- - -
0.0
190 - 5
149
- - -
6.1
Previous Seasons

Competition
Season
M
MIN
2PM-A
1st Half H.S
3PM-A
3PT
%
FTM-A
FT %
PF
Total Pts
TOT
AST
PTS
2013/14
2013
26
02/11/2013
60 - 137
43.8
52 - 4
41
- - Canberra
78.8
3.9
2012/13
20
02/11/2012
93 - 203
45.8
88 - 1
65
- - Sydney
73.9
8.5
2011/12
Summer
22
02/12/2011
73 - 159
45.9
50 - -
43
- - West Coast
86.0
6.5