Season Statistics
PPG


RPG


APG
2.8
FG%

Player Profile
Angela Marino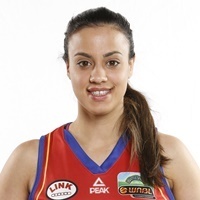 DOB: 03.02.86
Height: 166cm
Junior Club: Whyalla Steelers/ Sturt Sabres (SA)
WNBL Clubs: Canberra Capitals 2004 – 2006; Perth Lynx 2006/07; Adelaide Lightning 2007 – Current.
WNBL Championships: (2) Canberra Capitals 2006; Adelaide Lightning 2008.
Bio: A mainstay in the Adelaide Lightning locker room, Marino has developed into a high-level point guard at the WNBL level. At just 18 years of age, Marino was thrust on to the world stage, playing for the New Zealand Tall Ferns at the 2004 Athens Olympic Games.
Marino would go on to represent New Zealand at the 2008 Beijing Games as well as win WNBL titles with the Canberra Capitals and Adelaide Lightning.
With more than 200 WNBL games under her belt, Marino continues to be a leader for the Lightning and a staple in their starting line-up.
Career Highlights: Olympic Games: 2004, 2008 (Playing for New Zealand), Commonwealth Games: 2006 (Silver).
Season Statistics

2PT
3PT
FT
Rebounds
M
MIN
2PM-A
1st Half H.S
3PM-A
3PT
%
FTM-A
FT %
TOT
AST
PTS
Season
24
04/02/2012
29 - 105
27.6
102 - 103
83
- - Bendigo
2.8
Career
248
17/10/2009
- - -
0.0
1020 - 1125
825
- - -
2.5
Previous Seasons

Competition
Season
M
MIN
2PM-A
1st Half H.S
3PM-A
3PT
%
FTM-A
FT %
PF
Total Pts
TOT
AST
PTS
2014/15
2014
22
04/01/2015
35 - 108
32.4
84 - 100
59
- - West Coast
70.2
2.4
2013/14
2013
24
15/02/2014
33 - 95
34.7
98 - 116
77
- - Dandenong
78.6
3.3
2006/07
Summer
21
15/12/2006
36 - 96
37.5
54 - 65
45
- - Townsville
83.3
2.5
2005/06
Summer
24
13/01/2006
18 - 64
28.1
33 - 48
24
- - Townsville
72.7
1.0
2004/05
Summer
21
13/11/2004
57 - 192
29.7
139 - 149
116
- - West Coast
83.5
3.3
2012/13
23
10/11/2012
35 - 82
42.7
98 - 103
76
- - Sydney
77.6
2.0
2011/12
Summer
24
04/02/2012
29 - 105
27.6
102 - 103
83
- - Bendigo
81.4
2.8
2010/11
Summer
20
19/02/2011
- - -
0.0
78 - 126
70
- - West Coast
89.7
2.5
2009/10
Summer
18
17/10/2009
- - -
0.0
105 - 105
86
- - West Coast
81.9
3.0
2008/09
Summer
24
08/11/2008
- - -
0.0
123 - 134
102
- - West Coast
82.9
2.5
2007/08
Summer
27
18/01/2008
- - -
0.0
106 - 76
87
- - Bulleen
82.1
1.9