Season Statistics
PPG


RPG


APG
3.5
FG%

Player Profile
Amy Lewis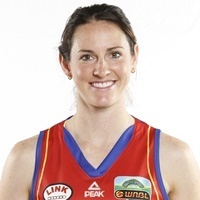 DOB: 14.05.86

Height: 177cm

Junior Club: Eltham (VIC)
WNBL Clubs: Townsville Fire 2008 – 11; Adelaide Lightning 2011 – Current.
WNBL Championships: Nil.
Bio: After a successful college career at Troy University in the USA, Lewis returned to Australia in 2008, joining the Townsville Fire. She starred under then Fire coach Peter Buckle, becoming one of the team's primary offensive weapons in just her second season, averaging more than 16 points per game.
Lewis followed Buckle to Adelaide, helping the Lightning reach the 2012 WNBL Preliminary Final after winning just three games the season prior. Lewis suffered an injury-interrupted 2012/13 campaign before playing 20 games last season.
Career Highlights: World University Games: 2009 (Bronze).
Season Statistics

2PT
3PT
FT
Rebounds
M
MIN
2PM-A
1st Half H.S
3PM-A
3PT
%
FTM-A
FT %
TOT
AST
PTS
Season
24
08/10/2011
67 - 142
47.2
29 - 51
20
- - West Coast
3.5
Career
162
08/10/2010
- - -
0.0
261 - 474
199
- - -
3.0
Previous Seasons

Competition
Season
M
MIN
2PM-A
1st Half H.S
3PM-A
3PT
%
FTM-A
FT %
PF
Total Pts
TOT
AST
PTS
2015/16
2015
23
25/10/2015
54 - 142
38.0
24 - 54
19
- - Adelaide Lightning
79.2
3.9
2014/15
2014
11
29/11/2014
13 - 43
30.2
5 - 15
3
- - UC Capitals
60.0
1.6
2013/14
2013
20
18/01/2014
32 - 85
37.6
18 - 31
16
- - Logan
88.9
2.5
2010/11
Summer
22
08/10/2010
- - -
0.0
44 - 65
33
- - Sydney
75.0
3.1
2009/10
Summer
23
14/11/2009
- - -
0.0
71 - 128
53
- - Logan
74.6
2.5
2008/09
Summer
24
21/02/2009
- - -
0.0
54 - 98
40
- - Bulleen
74.1
2.1
2012/13
15
22/12/2012
43 - 93
46.2
16 - 32
15
- - West Coast
93.8
4.1
2011/12
Summer
24
08/10/2011
67 - 142
47.2
29 - 51
20
- - West Coast
69.0
3.5