Season Statistics
PPG
15.8
RPG
4.0
APG
2.6
FG%
42.6
Player Profile
Stephanie Cumming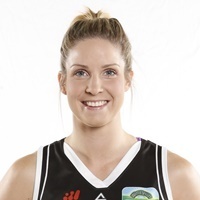 DOB: 26.07.90

Height: 178cm

Junior Club: Dandenong (VIC)
WNBL Clubs: Dandenong Rangers 2006/07; AIS 2007 – 09; Dandenong Rangers 2009 – 2013; Townsville Fire 2013 – Current.
WNBL Championships: (1) Dandenong Rangers 2012.
Bio: Bursting on to the scene as a 16-year-old with her local team the Dandenong Rangers, Cumming found herself on a scholarship to the AIS in 2007, where she would spend the next two seasons.
Consistent improvement from the sharp-shooting guard would result in selection for the 2009 FIBA Under 19 World Championship, with a return to the Rangers leading the way to her first Jayco Opals call-up in 2011.
This proved to be a launching pad for Cumming, who would go on to have a career best season in 2011/12, averaging a career-high 14 points and 4.3 rebounds as the Rangers claimed the WNBL Championship.
Another stellar season led to the opportunity to help the Emerging Opals win bronze at the 2013 World University Games. Now at the Townsville Fire, Cumming will be looking to add another title to her collection.
Career Highlights: World University Games: 2013 (Bronze), FIBA U19 World Championships: 2009.
Season Statistics

FG
3PT
FT
Rebounds
M
FGM-A
FG%
3PM-A
3P%
FTM-A
FT%
TOT
AST
PTS
Season
25
145 - 340
42.6
32 - 89
36.0
74 - 87
85.1
4.0
2.6
15.8
Career
228
874 - 2033
43.0
262 - 692
37.9
386 - 474
81.4
2.9
1.6
10.5
Game Log

| Date | Opposition | Min | FGM - FGA | 3PM - 3PA | FTM - FTA | OR | DR | TR | AS | ST | BL | TO | PFS | Pts |
| --- | --- | --- | --- | --- | --- | --- | --- | --- | --- | --- | --- | --- | --- | --- |
| 10 Oct | UCC | 33:06 | 5 - 15 | 1 - 5 | 2 - 2 | 0 | 3 | 3 | 2 | 4 | 0 | 1 | 0 | 13 |
| 16 Oct | SEQ | 35:45 | 6 - 12 | 2 - 4 | 3 - 4 | 1 | 2 | 3 | 2 | 1 | 2 | 0 | 2 | 17 |
| 23 Oct | BEN | 29:05 | 7 - 10 | 3 - 6 | 1 - 2 | 0 | 3 | 3 | 2 | 1 | 1 | 5 | 2 | 18 |
| 25 Oct | PER | 37:29 | 9 - 21 | 2 - 3 | 2 - 4 | 0 | 1 | 1 | 1 | 1 | 1 | 4 | 4 | 22 |
| 31 Oct | TSV | 36:52 | 10 - 16 | 1 - 2 | 1 - 1 | 0 | 2 | 2 | 4 | 1 | 0 | 0 | 3 | 22 |
| 7 Nov | MEL | 37:51 | 5 - 14 | 3 - 4 | 2 - 4 | 1 | 0 | 1 | 2 | 0 | 0 | 2 | 2 | 15 |
| 13 Nov | PER | 36:12 | 4 - 14 | 0 - 3 | 1 - 2 | 2 | 5 | 7 | 6 | 2 | 0 | 4 | 1 | 9 |
| 22 Nov | BEN | 38:31 | 5 - 11 | 0 - 2 | 3 - 3 | 3 | 3 | 6 | 2 | 3 | 2 | 2 | 2 | 13 |
| 28 Nov | SYD | 35:33 | 8 - 14 | 2 - 5 | 5 - 5 | 0 | 2 | 2 | 2 | 1 | 0 | 1 | 2 | 23 |
| 4 Dec | PER | 38:47 | 6 - 15 | 0 - 3 | 3 - 3 | 1 | 2 | 3 | 3 | 0 | 1 | 0 | 4 | 15 |
| 6 Dec | ADL | 33:30 | 6 - 13 | 1 - 4 | 0 | 3 | 3 | 6 | 4 | 1 | 0 | 6 | 3 | 13 |
| 12 Dec | UCC | 36:38 | 4 - 10 | 1 - 5 | 13 - 14 | 2 | 3 | 5 | 3 | 2 | 0 | 6 | 1 | 22 |
| 18 Dec | MEL | 33:31 | 3 - 6 | 0 | 4 - 4 | 1 | 1 | 2 | 0 | 0 | 1 | 4 | 2 | 10 |
| 20 Dec | TSV | 34:42 | 8 - 19 | 0 - 3 | 0 - 2 | 2 | 2 | 4 | 2 | 1 | 1 | 1 | 2 | 16 |
| 2 Jan | SEQ | 38:40 | 7 - 13 | 3 - 4 | 4 - 4 | 0 | 5 | 5 | 4 | 0 | 0 | 3 | 3 | 21 |
| 8 Jan | ADL | 37:37 | 6 - 12 | 2 - 5 | 6 - 6 | 0 | 1 | 1 | 6 | 1 | 0 | 1 | 1 | 20 |
| 9 Jan | SYD | 37:02 | 4 - 11 | 1 - 2 | 3 - 3 | 1 | 4 | 5 | 1 | 0 | 1 | 2 | 2 | 12 |
| 22 Jan | ADL | 37:33 | 3 - 13 | 0 - 1 | 3 - 4 | 0 | 4 | 4 | 3 | 0 | 0 | 3 | 3 | 9 |
| 25 Jan | MEL | 39:03 | 5 - 13 | 1 - 6 | 1 - 2 | 1 | 6 | 7 | 3 | 1 | 0 | 6 | 1 | 12 |
| 30 Jan | BEN | 36:42 | 7 - 11 | 1 - 2 | 8 - 8 | 1 | 7 | 8 | 1 | 0 | 1 | 2 | 1 | 23 |
| 6 Feb | SYD | 34:52 | 8 - 15 | 3 - 3 | 0 | 1 | 5 | 6 | 2 | 0 | 0 | 3 | 2 | 19 |
| 7 Feb | UCC | 32:05 | 5 - 14 | 2 - 4 | 2 - 2 | 2 | 5 | 7 | 4 | 0 | 0 | 2 | 3 | 14 |
| 12 Feb | TSV | 36:26 | 6 - 19 | 1 - 5 | 0 | 0 | 4 | 4 | 2 | 0 | 0 | 2 | 1 | 13 |
| 21 Feb | SEQ | 33:09 | 6 - 18 | 2 - 7 | 6 - 6 | 0 | 2 | 2 | 1 | 0 | 0 | 1 | 2 | 20 |
| 27 Feb | SEQ | 36:04 | 2 - 11 | 0 - 1 | 1 - 2 | 0 | 2 | 2 | 4 | 1 | 0 | 1 | 4 | 5 |
Previous Seasons

| Competition | Season | M | FGM-A | FG% | 3PM-A | 3P% | FTM-A | FT% | PFS | Pts | TOT | AST | PTS |
| --- | --- | --- | --- | --- | --- | --- | --- | --- | --- | --- | --- | --- | --- |
| 2015/16 | 2015 | 25 | 145 - 340 | 42.6 | 32 - 89 | 36.0 | 74 - 87 | 85.1 | 53 | 396 | 4.0 | 2.6 | 15.8 |
| 2014/15 | 2014 | 24 | 95 - 226 | 42.0 | 31 - 85 | 36.5 | 48 - 61 | 78.7 | 36 | 274 | 2.8 | 2.0 | 11.4 |
| 2013/14 | 2013 | 27 | 108 - 242 | 44.6 | 24 - 53 | 45.3 | 75 - 82 | 91.5 | 43 | 315 | 2.9 | 2.2 | 11.7 |
| 2012/13 | | 26 | 108 - 228 | 47.4 | 34 - 80 | 42.5 | 41 - 45 | 91.1 | 51 | 291 | 3.0 | 1.1 | 11.2 |
| 2011/12 | Summer | 25 | 132 - 287 | 46.0 | 36 - 91 | 39.6 | 40 - 53 | 75.5 | 58 | 340 | 4.2 | 2.0 | 13.6 |
| 2010/11 | Summer | 23 | 92 - 220 | 41.8 | 31 - 81 | 38.3 | 19 - 22 | 86.4 | 46 | 234 | 2.9 | 1.3 | 10.2 |
| 2009/10 | Summer | 22 | 84 - 225 | 37.3 | 31 - 92 | 33.7 | 45 - 58 | 77.6 | 53 | 244 | 3.0 | 1.7 | 11.1 |
| 2006/07 | Summer | 12 | 4 - 8 | 50.0 | 3 - 4 | 75.0 | 1 - 6 | 16.7 | 9 | 12 | 0.5 | 0.3 | 1.0 |
| 2008/09 | Summer | 20 | 61 - 151 | 40.4 | 16 - 56 | 28.6 | 24 - 40 | 60.0 | 37 | 162 | 2.8 | 2.0 | 8.1 |
| 2007/08 | Summer | 24 | 45 - 106 | 42.5 | 24 - 61 | 39.3 | 19 - 20 | 95.0 | 48 | 133 | 1.9 | 0.4 | 5.5 |