Season Statistics
PPG


RPG


APG
3.7
FG%

Player Profile
Cherie Gallagher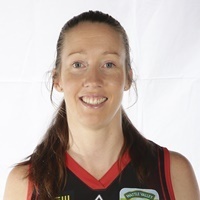 DOB: 8.1.83
Height: 180cm
Junior Club: Mildura Mavericks (VIC)
WNBL Clubs: Adelaide 2002 - 2006/07; Townsville Fire 2007/08 - 2009/10; Townsville Fire 2012/13; Townsville Fire 2015/16 - Current.
WNBL Championships: Nil.
Bio: Cherie Gallgher returns to the Wattle Valley WNBL in 2015/16 for a third stint with the JCU Townsville Fire.
The 32-year-old, who played the last of her 184 WNBL games during the 2012/13 Grand Final, averaged 9.9 points, 5.7 rebounds and 1.5 assists for the Townsville Flames during the QBL season and did more than enough to convince the defending champions that she still had plenty to offer at the next level.
A versatile foward, Gallagher was a linchpin for the Fire as they made their charge to their maiden WNBL Grand Final before taking an enforced break from the club due to the birth of her second child.
Following the departure of inspirational captain Rachael McCully in 2014/15, Gallagher is expected to help fill the leadership void for the Fire.
Career Highlights: World University Games: 2003.
Season Statistics

2PT
3PT
FT
Rebounds
M
MIN
2PM-A
1st Half H.S
3PM-A
3PT
%
FTM-A
FT %
TOT
AST
PTS
Season
24
21/12/2007
- - -
0.0
24 - 21
20
- - Christchurch
3.7
Career
206
30/10/2005
- - -
0.0
158 - 162
119
- - -
2.7
Previous Seasons

Competition
Season
M
MIN
2PM-A
1st Half H.S
3PM-A
3PT
%
FTM-A
FT %
PF
Total Pts
TOT
AST
PTS
2015/16
2015
22
12/03/2016
6 - 20
30.0
10 - 7
7
- - Perth Lynx
70.0
1.6
2012/13
19
02/02/2013
26 - 67
38.8
21 - 11
14
- - Sydney
66.7
2.4
2009/10
Summer
24
31/10/2009
- - -
0.0
22 - 22
17
- - Logan
77.3
2.4
2008/09
Summer
24
24/10/2008
- - -
0.0
17 - 18
15
- - Sydney
88.2
3.0
2007/08
Summer
24
21/12/2007
- - -
0.0
24 - 21
20
- - Christchurch
83.3
3.7
2006/07
Summer
5
19/01/2007
2 - 4
50.0
- - 4
- - AIS
0.0
0.6
2005/06
Summer
22
30/10/2005
44 - 95
46.3
18 - 45
14
- - AIS
77.8
3.5
2004/05
Summer
22
15/01/2005
54 - 119
45.4
31 - 32
22
- - Sydney
71.0
4.4
2003/04
Summer
22
28/11/2003
17 - 43
39.5
8 - 1
6
- - West Coast
75.0
1.6
2002/03
Summer
22
15/12/2002
21 - 48
43.8
7 - 1
4
- - Bulleen
57.1
2.0