Season Statistics
PPG


RPG


APG
1.7
FG%

Player Profile
Madeleine Garrick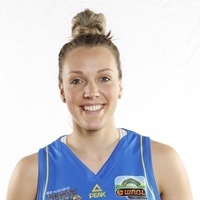 DOB: 01.04.92
Height: 179cm
Junior Club: Shepparton/Bulleen (VIC)
WNBL Clubs: Bendigo Spirit 2009/10; AIS 2010 – 2012; Bendigo Spirit 2012 – Current.
WNBL Championships: (2) Bendigo Spirit 2013, 2014.
Bio: The Goulburn Valley product made her name with the Bendigo Spirit as a 17-year-old before taking the opportunity to join the AIS for a productive three season stay.
A return to the Spirit eventuated, with Garrick developing into a vital role player off the bench, contributing big minutes in Bendigo's run to their first-ever WNBL Championship.
Entering her fifth WNBL season, the 21-year-old posted career-high marks in field goal and three-point field goal shooting as Bendigo won back-to-back titles.
Career Highlights: FIBA U19 World Championship: 2011, Australian Youth Olympic Festival: 2009 (Gold).
Season Statistics

2PT
3PT
FT
Rebounds
M
MIN
2PM-A
1st Half H.S
3PM-A
3PT
%
FTM-A
FT %
TOT
AST
PTS
Season
26
21/12/2012
29 - 74
39.2
14 - 10
9
- - Logan
1.7
Career
146
19/12/2015
- - -
0.0
105 - 254
81
- - -
2.2
Previous Seasons

Competition
Season
M
MIN
2PM-A
1st Half H.S
3PM-A
3PT
%
FTM-A
FT %
PF
Total Pts
TOT
AST
PTS
2015/16
2015
24
19/12/2015
63 - 155
40.6
28 - 140
23
- - Sydney Uni Flames
82.1
4.5
2014/15
2014
23
09/11/2014
24 - 69
34.8
12 - 43
7
- - Adelaide
58.3
1.7
2013/14
2013
24
09/02/2014
23 - 47
48.9
10 - 29
10
- - Melbourne
100.0
1.3
2012/13
26
21/12/2012
29 - 74
39.2
14 - 10
9
- - Logan
64.3
1.7
2009/10
Summer
6
31/10/2009
- - -
0.0
- - -
- - AIS
0.0
1.3
2011/12
Summer
18
18/11/2011
29 - 85
34.1
17 - 10
14
- - Canberra
82.4
1.9
2010/11
Summer
22
27/11/2010
- - -
0.0
24 - 21
18
- - Bendigo
75.0
2.5
2009/10
Summer
3
22/01/2010
- - -
0.0
- - 1
- - Sydney
0.0
3.0