Season Statistics
PPG


RPG


APG
8.7
FG%

Player Profile
Gabrielle Richards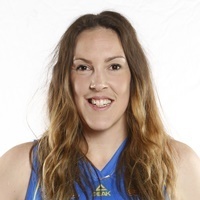 DOB: 19.11.84
Height: 188cm
Junior Club: Seymour (VIC)
WNBL Clubs: AIS 2002 – 2004; Bendigo Spirit 2007 – 2009, 2010 – Current.
WNBL Championships: (2) Bendigo Spirit 2013, 2014.
Bio: Richards emerged as one of the premier frontcourt players in the WNBL in the 2012/13 WNBL season, averaging career highs in points and rebounds as the Bendigo Spirit claimed their first WNBL Championship.
For many who have seen her develop at the Spirit these performances did not come as a surprise, with the country Victorian consistently averaging more than 12 points and 7 rebounds a game throughout her WNBL career. Starting out at the AIS, Richards made the move to the University of Oregon in 2004, spending three seasons at the college before returning to the WNBL in 2007 to join the Spirit.
Along with the likes of Chelsea Aubry, Kristi Harrower and Kelly Wilson, Richards formed the core that would guide the team to the 2013 and 2014 WNBL titles, earning two All-Star Five honours.
Career Highlights: WNBL All-Star Five: 2013, 2014; FIBA Young Women's World Championships: 2003
Season Statistics

2PT
3PT
FT
Rebounds
M
MIN
2PM-A
1st Half H.S
3PM-A
3PT
%
FTM-A
FT %
TOT
AST
PTS
Season
25
18/01/2013
156 - 298
52.3
97 - 9
78
- - Townsville
8.7
Career
232
07/11/2015
- - -
0.0
791 - 85
567
- - -
8.0
Previous Seasons

Competition
Season
M
MIN
2PM-A
1st Half H.S
3PM-A
3PT
%
FTM-A
FT %
PF
Total Pts
TOT
AST
PTS
2015/16
2015
24
07/11/2015
149 - 285
52.3
86 - 4
71
- - SEQ Stars
82.6
9.1
2014/15
2014
24
26/10/2014
124 - 247
50.2
60 - 3
39
- - Melbourne
65.0
8.4
2013/14
2013
24
07/12/2013
125 - 260
48.1
115 - 4
82
- - Melbourne
71.3
9.5
2012/13
25
18/01/2013
156 - 298
52.3
97 - 9
78
- - Townsville
80.4
8.7
2011/12
Summer
22
15/10/2011
105 - 228
46.1
79 - 4
59
- - Bulleen
74.7
7.7
2010/11
Summer
24
27/02/2011
- - -
0.0
64 - 3
46
- - Logan
71.9
7.5
2008/09
Summer
23
22/11/2008
- - -
0.0
92 - 31
70
- - West Coast
76.1
7.3
2007/08
Summer
24
06/10/2007
- - -
0.0
99 - 16
60
- - Dandenong
60.6
7.9
2003/04
Summer
21
11/10/2003
116 - 248
46.8
55 - 10
40
- - Townsville
72.7
8.5
2002/03
Summer
21
08/11/2002
53 - 102
52.0
44 - 1
22
- - Townsville
50.0
4.2