Season Statistics
PPG


RPG


APG
9.6
FG%

Player Profile
Suzy Batkovic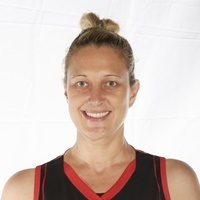 DOB: 17.12.80
Height: 192cm
Junior Club: Newcastle (NSW)
WNBL Clubs: AIS 1996 – 1999; Sydney Flames 1999 – 2001; Townsville Fire 2001/02, Sydney Uni Flames 2009/10; Canberra Capitals 2010/11; Adelaide Lightning 2011/12 – 2012/13; Townsville Fire 2013/14 – Current.
WNBL Championships: (3) AIS 1999; Sydney Flames 2001; Townsville Fire 2014/15.
Bio: Batkovic burst on to the scene as part of the Lauren Jackson and Penny Taylor team that claimed the 1999 WNBL Championship with the AIS. This led to the Newcastle-native becoming a staple in the Jayco Opals squad, helping the team win bronze at the 2002 FIBA World Championships.
This caught the attention of international suitors, with Batkovic selected by the Seattle Storm in the 2003 WNBA Draft. The 192cm centre would spend the next seven seasons aboard, winning the 2004 Euroleague title with French team Valencienne along with stints in the WNBA, Spain, Russia and Italy.
During this time Batkovic was ever present in the Opals squad, twice winning the Maher Medal for International Player of the Year (2001 & 2008) and helping the team claim the silver medal at the 2004 Athens and 2008 Beijing Games.
Returning to the WNBL, it was for the Adelaide Lightning where Batkovic was at her best, winning back-to-back WNBL Most Valuable Player awards – sandwiched between a third Olympic medal (bronze) at the 2012 London Olympic Games.
After two successful seasons in Adelaide, Batkovic made the move to the Townsville Fire for the 2013/14 season claiming her third successive WNBL MVP Award, and in the process, becoming the first player in the league's history to do so.
During another stellar campaign in 2014/15, Batkovic guided the Fire to their maiden WNBL crown.
Career Highlights: Olympic Games: 2004 (Silver), 2008 (Silver), 2012 (Bronze), FIBA World Championships: 2002 (Bronze), 2010, Maher Medal (International Player of the Year): 2001, 2008, Drafted 22nd overall in the 2003 WNBA Draft by the Seattle Storm, WNBL MVP: 2012, 2013, 2014, WNBL All-Star Five: 2010, 2012, 2013, 2014; EuroLeague Champion: 2004.
Season Statistics

2PT
3PT
FT
Rebounds
M
MIN
2PM-A
1st Half H.S
3PM-A
3PT
%
FTM-A
FT %
TOT
AST
PTS
Season
20
04/11/2012
156 - 334
46.7
127 - 24
90
- - Bulleen
9.6
Career
282
12/11/2011
- - -
0.0
1155 - 361
837
- - -
8.1
Previous Seasons

Competition
Season
M
MIN
2PM-A
1st Half H.S
3PM-A
3PT
%
FTM-A
FT %
PF
Total Pts
TOT
AST
PTS
2015/16
2015
28
24/01/2016
229 - 438
52.3
132 - 31
102
- - UC Capitals
77.3
8.8
2014/15
2014
24
10/01/2015
171 - 357
47.9
98 - 28
80
- - Dandenong
81.6
10.6
2013/14
2013
27
09/02/2014
185 - 405
45.7
157 - 71
128
- - Canberra
81.5
12.9
2001/02
Summer
21
11/11/2001
159 - 303
52.5
118 - 40
78
- - Bulleen
66.1
12.2
2009/10
Summer
20
20/12/2009
- - -
0.0
140 - 61
103
- - Logan
73.6
8.8
2000/01
Summer
23
23/03/2001
135 - 327
41.3
90 - 33
57
- - Dandenong
63.3
8.2
1999/00
21
30/10/1999
96 - 190
50.5
68 - 6
49
- - West Coast
72.1
7.0
2010/11
Summer
13
08/01/2011
- - -
0.0
38 - 21
25
- - Dandenong
65.8
6.7
1998/99
19
20/02/1999
89 - 170
52.4
53 - -
34
- - Adelaide
64.2
5.4
1998
13
27/03/1998
26 - 57
45.6
6 - -
4
- - Sydney
66.7
2.1
1997
15
20/07/1997
16 - 47
34.0
14 - 2
7
- - Dandenong
50.0
2.5
1996
18
30/08/1996
20 - 48
41.7
10 - -
6
- - Dandenong
60.0
1.4
2012/13
20
04/11/2012
156 - 334
46.7
127 - 24
90
- - Bulleen
70.9
9.6
2011/12
Summer
20
12/11/2011
190 - 366
51.9
104 - 44
74
- - Dandenong
71.2
10.4