Season Statistics
PPG


RPG


APG
6.0
FG%

Player Profile
Jennifer Screen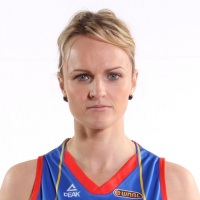 DOB: 24.02.83
Height: 180cm
Junior Club: Toowoomba (QLD)
WNBL Clubs: AIS 1999 – 2001; Adelaide Lightning 2001 – 2006, 2011 – Current.
WNBL Championships: Nil.
Bio: A product of regional Queensland, Screen quickly establish herself as an Adelaide body, moving to South Australia after two seasons at the AIS to continue her WNBL career.
Emerging as one of the stars of the Adelaide team alongside fellow young guns Erin Phillips and Laura Hodges, Screen quickly found herself in the Jayco Opals squad for the 2006 FIBA World Championships.
It was here where Screen would be part of the famous gold medal-winning Opals team at just 23 years of age. Screen was a regular in the national team setup under Jan Stirling, earning an Olympic Games call-up for Beijing, helping the Opals to a silver medal.
After five seasons with Adelaide, Europe came calling for the talented guard, taking up a chance to join Italianclub Parma in 2006.
Screen would stay with the northern Italian club until 2010, spending one season with Venezia before returning to the WNBL and the Adelaide Lightning for the 2011/12 season.
This move home ensured Screen would overcome the disappointment of missing the squad for the 2010 FIBA World Championships, making the final 12 for the 2012 London Olympic Games – going on to secure a bronze medal.
Career Highlights: Olympic Games: 2008 (Silver), 2012 (Bronze), FIBA World Championships: 2006 (Gold) Commonwealth Games: 2006 (Gold), FIBA U19 World Championships: 2001.
Season Statistics

2PT
3PT
FT
Rebounds
M
MIN
2PM-A
1st Half H.S
3PM-A
3PT
%
FTM-A
FT %
TOT
AST
PTS
Season
23
21/10/2012
61 - 133
45.9
22 - 49
20
- - Townsville
6.0
Career
178
30/01/2005
- - -
0.0
297 - 486
234
- - -
5.6
Previous Seasons

Competition
Season
M
MIN
2PM-A
1st Half H.S
3PM-A
3PT
%
FTM-A
FT %
PF
Total Pts
TOT
AST
PTS
2014/15
2014
10
30/01/2015
11 - 35
31.4
11 - 34
9
- - UC Capitals
81.8
6.9
2013/14
2013
22
04/01/2014
42 - 94
44.7
24 - 76
19
- - Dandenong
79.2
5.6
2000/01
Summer
15
10/03/2001
7 - 20
35.0
20 - 27
15
- - Bulleen
75.0
3.1
1999/00
1
10/10/1999
- - -
0.0
2 - -
1
- - West Coast
50.0
1.0
2012/13
23
21/10/2012
61 - 133
45.9
22 - 49
20
- - Townsville
90.9
6.0
2011/12
Summer
23
27/01/2012
49 - 111
44.1
19 - 23
19
- - Logan
100.0
4.9
2005/06
Summer
22
11/12/2005
71 - 157
45.2
67 - 115
50
- - Sydney
74.6
4.9
2004/05
Summer
22
30/01/2005
97 - 206
47.1
60 - 71
48
- - AIS
80.0
8.0
2003/04
Summer
20
18/10/2003
46 - 114
40.4
38 - 37
28
- - West Coast
73.7
4.5
2002/03
Summer
6
02/11/2002
18 - 35
51.4
11 - 12
10
- - West Coast
90.9
6.5
2001/02
Summer
14
23/11/2001
17 - 45
37.8
23 - 42
15
- - Townsville
65.2
6.4