Season Statistics
PPG


RPG


APG
4.4
FG%

Player Profile
Leilani Mitchell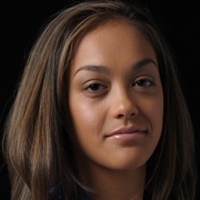 DOB: 15.06.85
Height: 165cm
Junior Club: Kennewick High School, Washington (USA)
WNBL Clubs: Dandenong Rangers 2013/14; Sydney Uni Flames 2014/15 – Current.
WNBL Championships: Nil.
Bio: Mitchell adds to the growing number of established WNBA players making the WNBL their off-season basketball destination, with the talented guard bringing six years of WNBA experience to the Rangers roster.
The winner of the WNBA Most Improved Player for 2010, Mitchell, whose mother was Australian, has become a star for the New York Liberty since the 2008 draft day trade landed her in the Big Apple.
A renowned creative guard, Mitchell also brings a career three-point shooting percentage of 41 percent to the table.
Career Highlights: Drafted at 25th overall in the 2008 WNBA Draft by the Phoenix Mercury, WNBA Most Improved Player: 2010, All-time leader in steals at University of Idaho: 323, LFB Import Player of the Year: 2010.
Season Statistics

2PT
3PT
FT
Rebounds
M
MIN
2PM-A
1st Half H.S
3PM-A
3PT
%
FTM-A
FT %
TOT
AST
PTS
Season
26
14/12/2013
62 - 137
45.3
56 - 112
48
- - Sydney Uni
4.4
Career
74
14/02/2016
- - -
0.0
203 - 326
173
- - -
4.0
Previous Seasons

Competition
Season
M
MIN
2PM-A
1st Half H.S
3PM-A
3PT
%
FTM-A
FT %
PF
Total Pts
TOT
AST
PTS
2015/16
2015
24
14/02/2016
111 - 232
47.8
94 - 115
81
- - Bendigo Spirit
86.2
3.6
2014/15
2014
24
01/11/2014
74 - 152
48.7
53 - 99
44
- - Adelaide
83.0
4.1
2013/14
2013
26
14/12/2013
62 - 137
45.3
56 - 112
48
- - Sydney Uni
85.7
4.4