Season Statistics
PPG


RPG


APG
2.4
FG%

Player Profile
Alex Wilson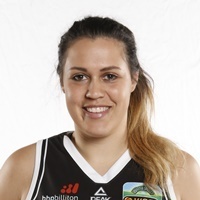 DOB: 21.03.94
Height: 174cm
Junior Club: Eastern Mavericks (SA)
WNBL Clubs: Adelaide Lightning 2010/11; Townsville Fire 2013 – Current.
WNBL Championships: Nil.
Bio: The South Australian has been honing her craft at the AIS over the past three years after bursting on to the scene as a 16-year-old.
The exciting young guard was a key player in the Australian Gems team that claimed bronze at the 2013 FIBA U19 World Championships, averaging 13 points and 7 rebounds per game.
Career Highlights: FIBA U19 World Championships: 2013 (Bronze), FIBA U17 World Championships: 2010, Australian U20 Championships MVP: 2013.
Season Statistics

2PT
3PT
FT
Rebounds
M
MIN
2PM-A
1st Half H.S
3PM-A
3PT
%
FTM-A
FT %
TOT
AST
PTS
Season
27
19/01/2014
35 - 80
43.8
41 - 28
27
- - Dandenong
2.4
Career
78
30/10/2015
- - -
0.0
102 - 118
70
- - -
2.9
Previous Seasons

Competition
Season
M
MIN
2PM-A
1st Half H.S
3PM-A
3PT
%
FTM-A
FT %
PF
Total Pts
TOT
AST
PTS
2015/16
2015
24
30/10/2015
55 - 103
53.4
32 - 65
25
- - SEQ Stars
78.1
4.1
2014/15
2014
24
31/01/2015
35 - 72
48.6
27 - 25
18
- - Melbourne
66.7
2.7
2013/14
2013
27
19/01/2014
35 - 80
43.8
41 - 28
27
- - Dandenong
65.9
2.4
2010/11
Summer
3
- - -
0.0
2 - -
- - -
0.0
0.3