Season Statistics
PPG


RPG


APG
1.4
FG%

Player Profile
Laurie Koehn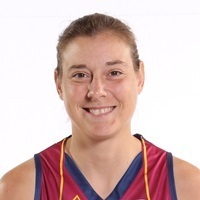 DOB: 13.05.82
Height: 173cm
Junior Club: Moundridge High School (USA)
WNBL Clubs: Logan Thunder 2012 – Current.
WNBL Championships: Nil.
Bio: Wasted no time living up to her reputation as one of the best three-point shooters to hit the WNBL, hitting a league-high 69 shots from beyond the arc in her first season – a remarkable 20 more than the next best player.
With a strong pedigree in the WNBA and Europe, Koehn became a key component in the improving Thunder team, leading the team in scoring at 15.2 points per game, forming a strong core alongside Natalie Taylor, Emma Langford and Kristen Veal. Will benefit from having the likes of off-season recruits Hanna Zavecz and Ruth Riley creating open looks.
Career Highlights: All-time three-point leader in NCAA women's history, League-high three-point percentage in 2005 WNBA season, 2007 WNBA Three-Point Shoot Out winner.
Season Statistics

2PT
3PT
FT
Rebounds
M
MIN
2PM-A
1st Half H.S
3PM-A
3PT
%
FTM-A
FT %
TOT
AST
PTS
Season
14
30/11/2014
10 - 26
38.5
13 - 64
11
- - Sydney Uni
1.4
Career
50
05/10/2013
- - -
0.0
52 - 331
46
- - -
2.3
Previous Seasons

Competition
Season
M
MIN
2PM-A
1st Half H.S
3PM-A
3PT
%
FTM-A
FT %
PF
Total Pts
TOT
AST
PTS
2014/15
2014
14
30/11/2014
10 - 26
38.5
13 - 64
11
- - Sydney Uni
84.6
1.4
2013/14
2013
15
05/10/2013
20 - 48
41.7
15 - 95
13
- - Dandenong
86.7
1.9
2012/13
21
26/10/2012
45 - 85
52.9
24 - 172
22
- - Sydney
91.7
3.2