Season Statistics
PPG


RPG


APG
1.6
FG%

Player Profile
Lauren Mansfield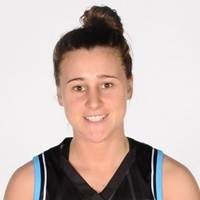 DOB: 18.12.89

Height: 170cm

Junior Club: North Adelaide (SA)
WNBL Clubs: Adelaide Lightning 2012 – Current. WNBL Championships: Nil.
Bio: After two years at Midland Community College in Texas, Mansfield earned a transfer to Iowa State University in the Big 12 Conference. Here she became the starting point guard – the first freshman player to do so since 1997.
Mansfield started 61 of 64 games with the Cyclones before returning to the WNBL and her hometown Adelaide Lightning for the 2012/13 WNBL season. Mansfield played 24 of the team's 25 games and will again be a key player in the rotation this season.
Career Highlights: World University Games: 2009 (Bronze), 2013 (Bronze).
Season Statistics

2PT
3PT
FT
Rebounds
M
MIN
2PM-A
1st Half H.S
3PM-A
3PT
%
FTM-A
FT %
TOT
AST
PTS
Season
24
26/10/2013
17 - 43
39.5
20 - 30
13
- - Sydney Uni
1.6
Career
69
23/01/2016
- - -
0.0
72 - 165
60
- - -
2.7
Previous Seasons

Competition
Season
M
MIN
2PM-A
1st Half H.S
3PM-A
3PT
%
FTM-A
FT %
PF
Total Pts
TOT
AST
PTS
2015/16
2015
21
23/01/2016
99 - 222
44.6
40 - 82
35
- - UC Capitals
87.5
4.7
2013/14
2013
24
26/10/2013
17 - 43
39.5
20 - 30
13
- - Sydney Uni
65.0
1.6
2012/13
24
11/01/2013
22 - 54
40.7
12 - 53
12
- - Canberra
100.0
2.1