Season Statistics
PPG
6.9
RPG
6.3
APG
3.1
FG%
41.1
Player Profile
Sarah Parsons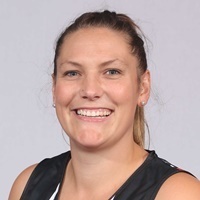 PERSONAL:
NICKNAME: Sezzy or Parso
NUMBER: 9
BORN: 25/11/1986
HEIGHT: 174cm
POSITION: Forward
CAREER:
JUNIOR CLUB: Kilsyth
YEARS IN SEABL:
CAREER HIGHLIGHTS: Youth Player of the Year, Defensive Player of the Year, Golden Hands Award.
GET TO KNOW SARAH PARSONS:
FOOD: Hot Chips
BASKETBALL MOMENT: Winning the 2008 SEABL Grand Final
SPORTING HERO:
SPORTING TEAM:
FAVOURITE STADIUM TO PLAY IN: Kilsyth (Hugh McMenamin Court)
TEAMMATE I WOULD LEAST LIKE TO ROOM WITH: Pete & Ben - They Smell!!!
IF I COULD HAVE DINNER WITH ANY THREE PEOPLE (PAST, PRESENT OR FUTURE) THEY WOULD BE: Tim Hailes, Ellen Degeneres & Pink.
Season Statistics

FG
3PT
FT
Rebounds
M
FGM-A
FG%
3PM-A
3P%
FTM-A
FT%
TOT
AST
PTS
Season
22
62 - 151
41.1
15 - 45
33.3
13 - 19
68.4
6.3
3.1
6.9
Career
324
1162 - 2866
40.5
146 - 561
66.7
595 - 892
66.7
7.5
3.5
9.5
Game Log

| Date | Opposition | Min | FGM - FGA | 3PM - 3PA | FTM - FTA | OR | DR | TR | AS | ST | BL | TO | PFS | Pts |
| --- | --- | --- | --- | --- | --- | --- | --- | --- | --- | --- | --- | --- | --- | --- |
| 6 Apr | HLC | 21:46 | 9 - 13 | 2 - 3 | 1 - 1 | 3 | 5 | 8 | 6 | 3 | 0 | 1 | 3 | 21 |
| 7 Apr | LAU | 35:01 | 8 - 13 | 6 - 8 | 0 | 1 | 2 | 3 | 3 | 3 | 0 | 7 | 3 | 22 |
| 14 Apr | FRA | 30:42 | 2 - 8 | 1 - 5 | 0 - 1 | 3 | 9 | 12 | 5 | 2 | 1 | 3 | 3 | 5 |
| 21 Apr | MEL | 26:36 | 2 - 8 | 1 - 5 | 0 | 0 | 6 | 6 | 0 | 2 | 0 | 0 | 2 | 5 |
| 28 Apr | DAN | 14:40 | 1 - 6 | 0 - 1 | 0 | 4 | 6 | 10 | 1 | 2 | 0 | 2 | 4 | 2 |
| 6 May | SYU | 24:58 | 3 - 6 | 1 - 3 | 3 - 4 | 1 | 3 | 4 | 4 | 5 | 0 | 2 | 2 | 10 |
| 11 May | COE | 16:34 | 0 - 3 | 0 - 1 | 0 | 2 | 2 | 4 | 3 | 1 | 0 | 0 | 1 | 0 |
| 12 May | CCA | 16:25 | 3 - 7 | 0 - 2 | 2 - 2 | 3 | 2 | 5 | 0 | 2 | 0 | 2 | 1 | 8 |
| 19 May | DIV | 13:37 | 1 - 6 | 0 - 2 | 0 | 4 | 5 | 9 | 0 | 0 | 0 | 0 | 2 | 2 |
| 26 May | NUN | 21:01 | 0 - 1 | 0 | 1 - 2 | 1 | 3 | 4 | 1 | 2 | 0 | 3 | 1 | 1 |
| 2 Jun | BEN | 21:52 | 2 - 7 | 0 - 2 | 0 | 3 | 5 | 8 | 3 | 2 | 0 | 2 | 3 | 4 |
| 16 Jun | SYU | 28:15 | 2 - 8 | 0 - 1 | 0 - 1 | 3 | 4 | 7 | 0 | 0 | 0 | 2 | 3 | 4 |
| 17 Jun | COE | 27:42 | 5 - 7 | 1 - 2 | 0 | 1 | 5 | 6 | 7 | 2 | 1 | 1 | 3 | 11 |
| 24 Jun | GEE | 26:06 | 3 - 7 | 0 - 2 | 2 - 2 | 2 | 5 | 7 | 6 | 1 | 0 | 0 | 3 | 8 |
| 30 Jun | BLR | 16:10 | 1 - 2 | 0 | 0 | 0 | 3 | 3 | 4 | 0 | 1 | 1 | 3 | 2 |
| 1 Jul | ALB | 18:28 | 8 - 15 | 0 - 1 | 0 | 6 | 4 | 10 | 4 | 4 | 0 | 1 | 1 | 16 |
| 7 Jul | GEE | 26:16 | 1 - 6 | 0 | 0 | 2 | 5 | 7 | 1 | 3 | 0 | 2 | 2 | 2 |
| 8 Jul | SAN | 16:31 | 1 - 4 | 1 - 1 | 0 | 2 | 2 | 4 | 2 | 3 | 0 | 0 | 2 | 3 |
| 14 Jul | FRA | 16:51 | 1 - 7 | 0 - 1 | 0 | 6 | 0 | 6 | 4 | 0 | 1 | 0 | 3 | 2 |
| 21 Jul | ALB | 24:30 | 6 - 9 | 1 - 2 | 1 - 2 | 2 | 6 | 8 | 6 | 2 | 1 | 2 | 4 | 14 |
| 28 Jul | NUN | 20:21 | 1 - 2 | 0 - 1 | 3 - 4 | 3 | 3 | 6 | 5 | 0 | 1 | 1 | 2 | 5 |
| 11 Aug | BEN | 25:04 | 2 - 6 | 1 - 2 | 0 | 1 | 1 | 2 | 3 | 1 | 0 | 4 | 4 | 5 |
Previous Seasons

| Competition | Season | M | FGM-A | FG% | 3PM-A | 3P% | FTM-A | FT% | PFS | Pts | TOT | AST | PTS |
| --- | --- | --- | --- | --- | --- | --- | --- | --- | --- | --- | --- | --- | --- |
| SEABL WOMEN 2018 | 2018 | 22 | 62 - 151 | 41.1 | 15 - 45 | 33.3 | 13 - 19 | 68.4 | 55 | 152 | 6.3 | 3.1 | 6.9 |
| SEABL WOMEN 2017 | 2017 | 23 | 61 - 154 | 39.6 | 8 - 32 | 25.0 | 14 - 19 | 73.7 | 56 | 144 | 5.3 | 3.3 | 6.3 |
| SEABL WOMEN (2013) | 2013 | 23 | 83 - 201 | 41.3 | 5 - 33 | 15.2 | 41 - 54 | 75.9 | 53 | 212 | 8.6 | 3.3 | 9.2 |
| SEABL WOMEN (2010) | Regular | 25 | 107 - 244 | 43.9 | 27 - 89 | 30.3 | 55 - 81 | 67.9 | 77 | 296 | 8.4 | 4.2 | 11.8 |
| SEABL WOMEN (2011) | | 27 | 103 - 240 | 42.9 | 15 - 57 | 26.3 | 52 - 70 | 74.3 | 71 | 273 | 7.2 | 2.9 | 10.1 |
| SEABL WOMEN (2015) | | 25 | 109 - 251 | 43.4 | 15 - 65 | 23.1 | 52 - 69 | 75.4 | 70 | 292 | 10.0 | 5.0 | 11.7 |
| SEABL WOMEN (2014) | | 25 | 104 - 266 | 39.1 | 27 - 89 | 30.3 | 42 - 59 | 71.2 | 69 | 277 | 8.6 | 3.8 | 11.1 |
| SEABL WOMEN (2012) | | 27 | 103 - 257 | 40.1 | 13 - 55 | 23.6 | 58 - 74 | 78.4 | 81 | 277 | 8.2 | 4.4 | 10.3 |
| SEABL WOMEN (2009) | | 19 | 66 - 217 | 30.4 | 8 - 38 | 21.1 | 74 - 112 | 66.1 | 55 | 214 | 9.5 | 5.4 | 11.3 |
| SEABL WOMEN (2008) | | 25 | 133 - 310 | 42.9 | 9 - 29 | 31.0 | 56 - 103 | 54.4 | 90 | 331 | 10.0 | 4.9 | 13.2 |
| SEABL WOMEN (2007) | Regular | 26 | 126 - 295 | 42.7 | - - 5 | 0.0 | 59 - 95 | 62.1 | 99 | 311 | 7.9 | 3.2 | 12.0 |
| SEABL WOMEN (2006) | Regular | 20 | 36 - 91 | 39.6 | - - 4 | 0.0 | 26 - 46 | 56.5 | 49 | 98 | 4.2 | 1.2 | 4.9 |
| SEABL WOMEN (2005) | Regular | 21 | 60 - 152 | 39.5 | 4 - 18 | 22.2 | 31 - 60 | 51.7 | 58 | 155 | 5.0 | 2.2 | 7.4 |
| SEABL WOMEN (2004) | Regular | 16 | 9 - 37 | 24.3 | - - 2 | 0.0 | 22 - 31 | 71.0 | 29 | 40 | 2.7 | 0.9 | 2.5 |