Season Statistics
PPG


RPG


APG
1.1
FG%

Player Profile
Heather Oliver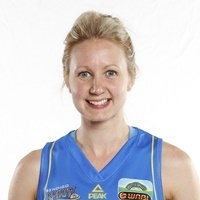 DOB: 02.09.87
Height: 178cm
Junior Club: Wangaratta (VIC)
WNBL Clubs: Bendigo Spirit 2010 –2012, 2013 – Current.
WNBL Championships: (1) Bendigo Spirit 2014.
Bio: The talented country Victorian used her performance at the 2007 FIBA Young Women's World Championships to transfer to one of the biggest schools in American college sports (University of Southern California) after one season at Central Arizona Junior College.
In her time at the Trojans, Oliver became a regular in the starting line-up and off the bench, providing defensive pressure and deadly outside shooting. Glandular fever ruined her senior year at USC, with the then 23-year-old returning to Australia to join the Bendigo Spirit.
Oliver played 37 games over two seasons with the Spirit before taking a break from the game. A refreshed Oliver returned to WNBL duties and provide added depth to an already stacked Bendigo squad, winning the WNBL Championship.
Career Highlights: FIBA Young Women's World Championship: 2007 (Silver).
Season Statistics

2PT
3PT
FT
Rebounds
M
MIN
2PM-A
1st Half H.S
3PM-A
3PT
%
FTM-A
FT %
TOT
AST
PTS
Season
25
23/11/2013
14 - 28
50.0
6 - 13
5
- - West Coast
1.1
Career
104
14/02/2016
- - -
0.0
95 - 91
77
- - -
1.9
Previous Seasons

Competition
Season
M
MIN
2PM-A
1st Half H.S
3PM-A
3PT
%
FTM-A
FT %
PF
Total Pts
TOT
AST
PTS
2015/16
2015
20
14/02/2016
32 - 81
39.5
41 - 14
30
- - Adelaide Lightning
73.2
3.7
2014/15
2014
22
31/01/2015
23 - 63
36.5
25 - 5
20
- - Sydney Uni
80.0
2.2
2013/14
2013
25
23/11/2013
14 - 28
50.0
6 - 13
5
- - West Coast
83.3
1.1
2011/12
Summer
18
17/02/2012
13 - 25
52.0
4 - 28
4
- - Logan
100.0
1.2
2010/11
Summer
19
06/02/2011
- - -
0.0
19 - 31
18
- - Bulleen
94.7
1.3