Season Statistics
PPG


RPG


APG
4.8
FG%

Player Profile
Tegan Cunningham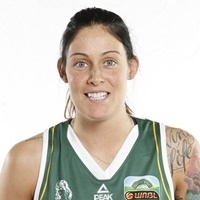 DOB: 23.01.88
Height: 186cm
Junior Club: Bulleen (VIC)
WNBL Clubs: Adelaide Lightning 2010/11; Dandenong Rangers 2011 – 2013; Logan Thunder 2013 – Current.
WNBL Championships: (1) Dandenong Rangers 2012.
Bio: The Melbourne junior moved to the USA in 2006, joining Seward County Community College in what would be a memorable two years in Kansas. Cunningham won multiple conference and tournament MVP awards and would leave the school as the all-time leading scorer.
The forward transfer to powerhouse program Oklahoma State University in 2008 and would complete two seasons at the mid-America school before returning to Australia and the WNBL in 2010.
It was a brilliant debut season by Cunningham, averaging more than 11 points and 5 rebounds for the Adelaide Lightning, prompting a move back to Victoria with the Dandenong Rangers.
A WNBL Championship followed, with Cunningham outstanding in the post-season averaging 14 points per game. After missing out on back-to-back titles, Cunningham makes the move north to Logan Thunder for the new campaign.
Career Highlights: Kansas Community College Conference (KJCCC) MVP: 2007, 2008, KJCCC Freshman of the Year: 2007, All-KJCCC First Team: 2007, NJCAA Region MVP: 2007, NJCAA Region Tournament MVP: 2007, All-time leading scorer at Seward County Community College (1368 points).
Season Statistics

2PT
3PT
FT
Rebounds
M
MIN
2PM-A
1st Half H.S
3PM-A
3PT
%
FTM-A
FT %
TOT
AST
PTS
Season
26
02/11/2012
111 - 213
52.1
18 - 3
13
- - Logan
4.8
Career
132
17/10/2010
- - -
0.0
169 - 45
119
- - -
5.0
Previous Seasons

Competition
Season
M
MIN
2PM-A
1st Half H.S
3PM-A
3PT
%
FTM-A
FT %
PF
Total Pts
TOT
AST
PTS
2015/16
2015
13
12/12/2015
4 - 6
66.7
1 - -
1
- - UC Capitals
100.0
0.8
2014/15
2014
23
23/10/2014
69 - 153
45.1
17 - 8
12
- - Adelaide
70.6
5.5
2013/14
2013
24
20/10/2013
124 - 256
48.4
44 - 5
29
- - West Coast
65.9
6.7
2012/13
26
02/11/2012
111 - 213
52.1
18 - 3
13
- - Logan
72.2
4.8
2011/12
Summer
24
04/03/2012
96 - 201
47.8
43 - 4
31
- - Adelaide
72.1
5.1
2010/11
Summer
22
17/10/2010
- - -
0.0
46 - 25
33
- - West Coast
71.7
5.2