Season Statistics
PPG


RPG


APG
1.0
FG%

Player Profile
Tessa Lavey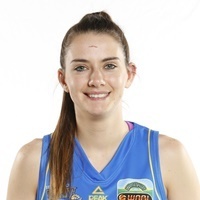 DOB: 29.03.93
Height: 170cm
Junior Club: Swan Hill (VIC)
WNBL Clubs: AIS 2009 – 2012; Canberra Capitals 2012/13; Bendigo Spirit 2013 – Current.
WNBL Championships: Nil.
Bio: The Swan Hill native returns to Victorian soil after four seasons in the ACT with the AIS and the Canberra Capitals. A talented ball-handler, Lavey came through three seasons at the AIS before an impressive SEABL season in 2012 saw the Capitals add her to their 2012/13 roster.
Despite the team's struggles, Lavey impressed earning a spot on the bronze medal-winning World University Games team before earning a call-up to the Opals training squad ahead of the 2013 FIBA Oceania Championships.
Lavey again served as the back-up to Harrower as Bendigo went back-to-back, but it has been on the national team scene where the guard has excelled, playing a moajor role in the Jayco Opals program leading into the 2014 FIBA World Championship for Women.
Career Highlights: World University Games: 2013 (Bronze), FIBA U17 World Championships: 2010.
Season Statistics

2PT
3PT
FT
Rebounds
M
MIN
2PM-A
1st Half H.S
3PM-A
3PT
%
FTM-A
FT %
TOT
AST
PTS
Season
24
13/02/2015
10 - 35
28.6
9 - 29
6
- - UC Capitals
1.0
Career
109
05/12/2015
- - -
0.0
83 - 213
60
- - -
2.0
Previous Seasons

Competition
Season
M
MIN
2PM-A
1st Half H.S
3PM-A
3PT
%
FTM-A
FT %
PF
Total Pts
TOT
AST
PTS
2015/16
2015
26
05/12/2015
57 - 157
36.3
35 - 122
31
- - Melbourne Boomers
88.6
3.4
2014/15
2014
24
13/02/2015
10 - 35
28.6
9 - 29
6
- - UC Capitals
66.7
1.0
2013/14
2013
17
10/11/2013
4 - 13
30.8
2 - 13
2
- - Canberra
100.0
0.8
2012/13
9
07/12/2012
2 - 8
25.0
- - 5
- - Sydney
0.0
0.9
2011/12
Summer
15
13/01/2012
16 - 36
44.4
6 - 19
3
- - Townsville
50.0
2.1
2010/11
Summer
10
30/10/2010
- - -
0.0
28 - 9
17
- - Adelaide
60.7
3.3
2009/10
Summer
8
22/01/2010
- - -
0.0
3 - 16
1
- - Sydney
33.3
3.7