Season Statistics
PPG


RPG


APG
3.5
FG%

Player Profile
Carley Mijovic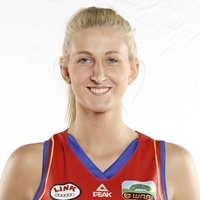 DOB: 01.08.94
Height: 196cm
Junior Club: Dandenong Rangers (VIC)
WNBL Clubs: AIS 2009 – 2012; Dandenong Rangers 2012/13; Canberra Capitals 2013 – 2014; Adelaide Lightning 2014 - Current.
WNBL Championships: Nil.
Bio: A series of knee injuries threatened to derail the career of Carley Mijovic before it had a chance to flourish, but the talented 19-year-old has made the most of time of court in the past two seasons – quickly establishing herself as an Opal of the future.
The Dandenong junior claimed the 2012 Betty Watson WNBL Rookie of the Year award in her first full season, averaging more than 9 points and 5 rebounds per game for the AIS.
This prompted a move to her home club, the Dandenong Rangers, where Mijovic would help the team finish second on the ladder and qualify for the WNBL finals.
A busy off-season followed, with Mijovic playing a leading role in guiding the Australian Gems to the bronze medal at the 2013 FIBA Under 19 World Championships.
After one season in Canberra with the Capitals, Mijovic joins fellow frontcourt star Alex Bunton at the Adelaide Lightning.
Career Highlights: WNBL Rookie of the Year: 2012, FIBA U19 World Championships: 2011 (Semi Final), 2013 (Bronze), FIBA U17 World Championships: 2010.
Season Statistics

2PT
3PT
FT
Rebounds
M
MIN
2PM-A
1st Half H.S
3PM-A
3PT
%
FTM-A
FT %
TOT
AST
PTS
Season
22
31/10/2014
40 - 97
41.2
10 - 58
9
- - Townsville
3.5
Career
118
06/02/2016
- - -
0.0
129 - 308
87
- - -
3.9
Previous Seasons

Competition
Season
M
MIN
2PM-A
1st Half H.S
3PM-A
3PT
%
FTM-A
FT %
PF
Total Pts
TOT
AST
PTS
2015/16
2015
27
06/02/2016
50 - 121
41.3
37 - 144
28
- - SEQ Stars
75.7
3.6
2014/15
2014
22
31/10/2014
40 - 97
41.2
10 - 58
9
- - Townsville
90.0
3.5
2013/14
2013
24
18/01/2014
74 - 148
50.0
40 - 41
27
- - West Coast
67.5
4.0
2012/13
23
21/10/2012
49 - 114
43.0
14 - 35
10
- - West Coast
71.4
3.5
2011/12
Summer
18
05/11/2011
65 - 157
41.4
22 - 25
9
- - Sydney
40.9
5.2
2009/10
Summer
4
19/12/2009
- - -
0.0
6 - 5
4
- - Dandenong
66.7
3.0