Season Statistics
PPG


RPG


APG
1.3
FG%

Player Profile
Georgia Minear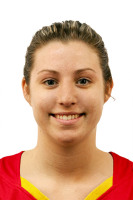 PERSONAL:
DOB: 27/09/1992; Height: 178cm
POSITION: Guard
JUNIOR ASSOCIATION: Forestville (SA)
WNBL CLUBS: AIS 2009/10 – 2010/11, Adelaide Lightning 2011/12
INTERNATIONAL GAMES: 2010 Australian U19 team Gems tour in France
WNBL CAREER NOTES: This is Georgia's debut season with the Adelaide Lightning; Georgia played 15 games for the AIS in season 2010/11, and averaged 2.9 points per game; 2009/10 was Georgia's debut season in the WNBL she averaged 1.4 rebounds and 0.8 points per game.
GENERAL BASKETBALL CAREER NOTES: 2011 Georgia played with the Forestville Eagles in South Australia's CABL; 2011 represented SA at the Australian U20 Championships (4th)...2010 Australian U19 squad (Gems); Georgia scored an equal game high 12 points to lead South Australia to Gold in the final of the Australian U20 Championship… 2009 AIS tour of Italy and France in March.
COACH'S COMMENTS:
Georgia is an athletic guard with a good shooting mentality and perimeter scoring range. She will be working on her ball-handling skills and ability to create with the dribble and pass, in addition to improving her individual defensive techniques, strength and leadership skills in 2010-11.
Season Statistics

2PT
3PT
FT
Rebounds
M
MIN
2PM-A
1st Half H.S
3PM-A
3PT
%
FTM-A
FT %
TOT
AST
PTS
Season
20
17/12/2011
18 - 39
46.2
6 - 16
5
- - West Coast
1.3
Career
40
08/10/2010
- - -
0.0
10 - 49
8
- - -
1.1
Previous Seasons

Competition
Season
M
MIN
2PM-A
1st Half H.S
3PM-A
3PT
%
FTM-A
FT %
PF
Total Pts
TOT
AST
PTS
2010/11
Summer
15
08/10/2010
- - -
0.0
4 - 27
3
- - Logan
75.0
0.7
2009/10
Summer
5
17/01/2010
- - -
0.0
- - 6
- - Townsville
0.0
1.4
2011/12
Summer
20
17/12/2011
18 - 39
46.2
6 - 16
5
- - West Coast
83.3
1.3